How Our Nutrient Intake Helps Regulate Our Circadian Rhythms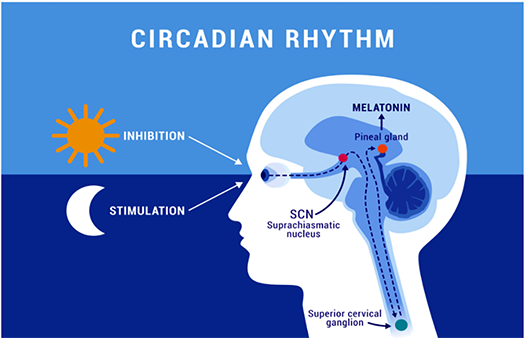 Circadian rhythms are physical, mental, and behavioral changes in our bodies and minds that respond to light and darkness. Functioning on a 24-hour schedule, they control our internal clock and sleep cycle. While light exposure plays a role in regulating circadian rhythms, our nutrient intake is just as effective at keeping our bodies and minds healthy.
Adaptable Cycles Fueled By Choice And Tradition
Word-bomb time!: The suprachiasmatic nuclei (SCN) of the anterior hypothalamus drive the circadian system's master clock. While the light and dark cycle enables synchronization to the 24-hour clock, feeding and/or fasting cycles behave as the primary time cues for the clocks of our peripheral tissues. Our eating times and frequency are controlled either by intermittent fasting (breaks between meals) or entrainment via socialization.
Nutritional intake varies from person to person according to their environment, income, and living standards, and has a direct effect on circadian rhythms, for better or for worse.
This is why some of us are fine with a cup of coffee in the morning while dashing out to work, while others required a lumberjack breakfast to get them through the door, and still feel hungry 15 minutes later.
In essence, we become used to a routine that itself becomes used to a routine intake of nutrients, enabling regulation of our circadian rhythms. This is why some of us are perfectly comfortable with staying up until well past midnight and others fall asleep during the evening news.
Our bodies adapt to the way we treat them, malleable and blinded by routine, and our sleep cycle and internal clock adjust to suit.
Metabolic Rhythms And Nutrient Availability
Our peripheral clocks are mainly responsive to feeding and as a result, peripheral tissue rhythms can be uncoupled from SCN rhythms, shifting the liver clock accordingly. As a result of metabolic rhythms being intertwined with nutrient availability, feeding, and fasting play an integral role in the functionality and consolidation of our circadian rhythms and internal clocks.
If a proper balance of nutrient-rich feeding and fasting is not achieved, it increases the risk of weight and metabolic health issues. A lower nutritional intake combined with appropriate fasting sessions or time-restricted feedings can have adverse effects as well, and more often.
Habits Shape Our Needs
The ideal way of maintaining good metabolic health is to adhere to consistent meal patterns, especially right after physical activity. Taking the dog for a walk and heading in for breakfast, biking downtown and stopping for lunch, and doing a little weight training before heading out for dinner are great examples of this in action, and you'll work up an appetite that makes any fasting-related frustrations disappear. You'll sleep more comfortably and soundly at night, and your energy will be revitalized as a result.
---