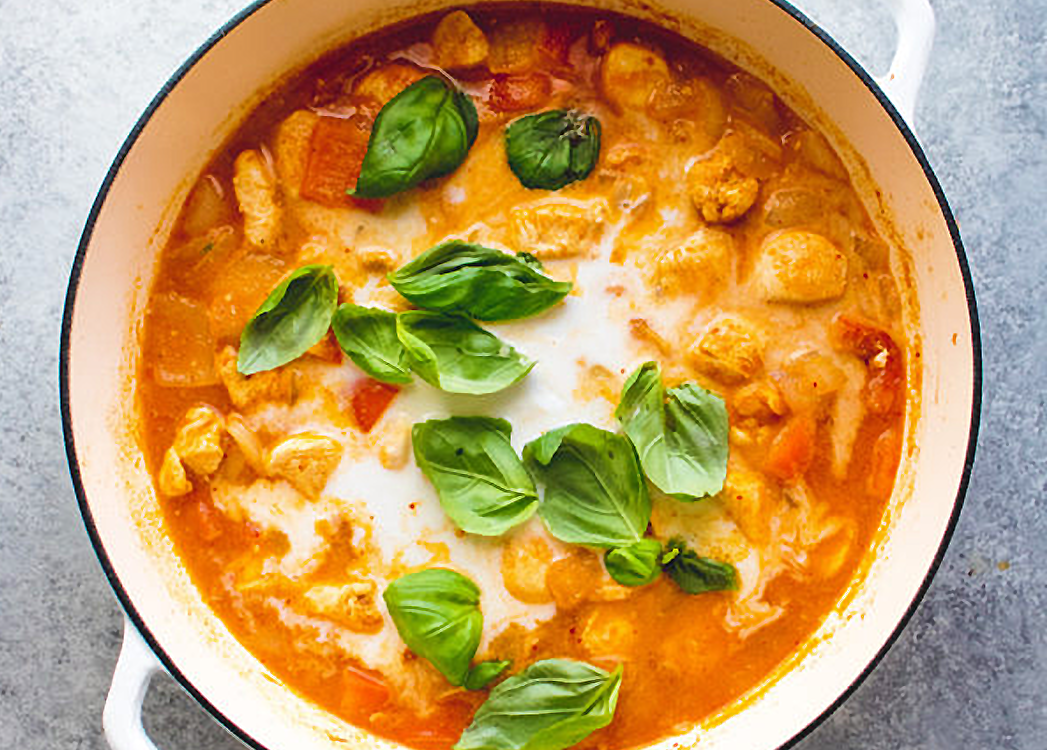 Enjoy all the spicy flavors of restaurant-style curry without leaving the house! This red chicken curry is full of creamy texture, high in protein, and rich in antioxidants. Best of all it's served over cauliflower rice for a Paleo-friendly recipe.
Prep Time: 10 minutes Cook Time: 28 minutes Total Time: 38 minutes Servings: 4 Calories: 646 calories
Ingredients
2 tablespoons coconut oil  
1 lb. boneless skinless chicken breasts, diced  
1 teaspoon minced garlic  
1 teaspoon minced ginger  
1 cup chopped red bell pepper  
1 cup chopped white onion  
2 tablespoons red curry paste 
1 cup coconut cream 
2 cups chicken stock  
2 teaspoon coconut sugar  
2 tablespoons lime juice  
½ teaspoon sea salt  
½ cup fresh basil leaves  
8 cups riced cauliflower
Instructions
Heat 1 tablespoon of coconut oil in a 4-quart Dutch oven or heavy pot. Add riced cauliflower and sauté for 5 minutes to tenderize cauliflower. Divide cooked cauliflower rice between 4 black MPOF containers.
Heat the remaining coconut oil in a pot over medium-high heat. Add chicken and brown for 8 minutes, stirring occasionally. Add garlic, ginger, onion, and bell pepper. Cook for 5 minutes longer. Stir in curry paste to coat chicken and vegetables.
Stir in chicken stock, coconut sugar, and sea salt. Bring to a boil and reduce heat to medium. Simmer for 10 minutes. Stir in coconut cream, lime juice, and basil leaves. Ladle curry over cauliflower rice. Cool for 10 minutes before securing the lids.
Notes
Garlic, onions, and ginger make Thai red curry so flavorful and distinguished. Feel free to add as many of these aromatic flavors as your heart desires! 
Use full-fat coconut milk for a creamier curry. 
This recipe is perfect for freezing because there aren't any vegetables. If you want to add vegetables, try broccoli, cauliflower, sweet potatoes, mushrooms, or butternut. If you make the curry with veggies and want to freeze the dish, leave the vegetables undercooked. 
You can buy Thai red curry paste or make your own.
Nutrition
Calories: 646kcal | Carbohydrates: 42g | Protein: 37g | Fat: 26g | Sodium: 1386mg | Fiber: 21g
---