Slow Cooker Chicken Burrito Bowl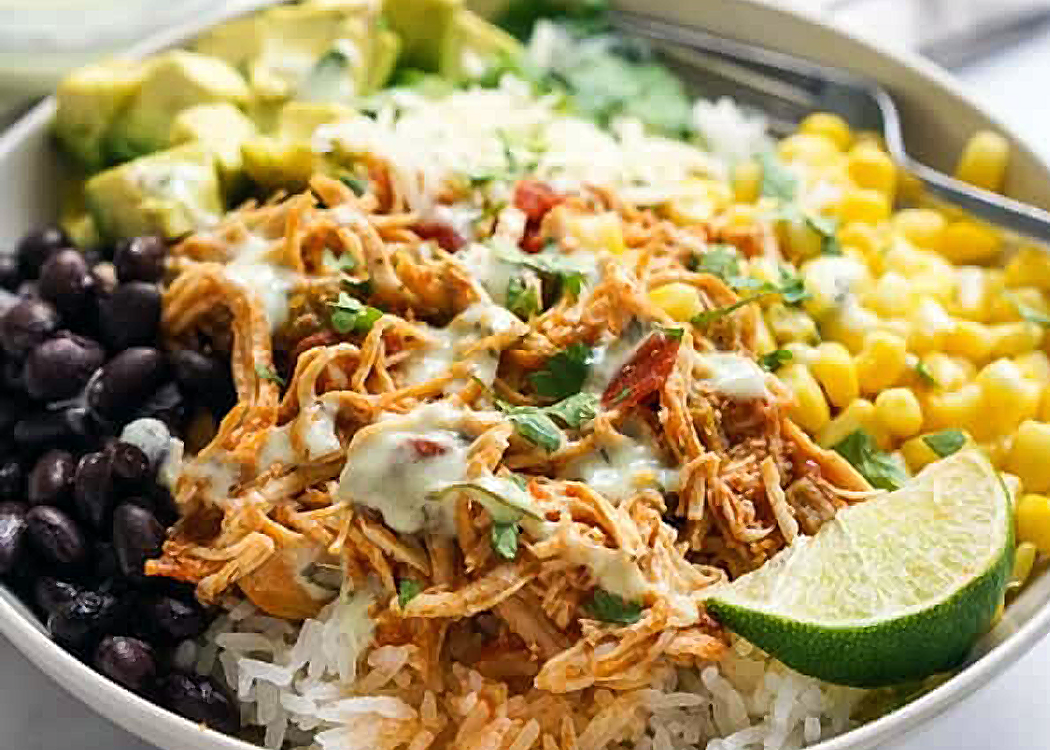 Mexican-inspired slow cooker chicken bowl combined with rice, black beans, corn, avocado, cilantro, and cheese, and drizzled with a creamy and zesty Cilantro Lime Dressing. Easy and delicious crockpot meal and meal prep.
Prep Time: 20 minutes Cook Time: 240 minutes Total Time: 260 minutes Servings: 6 Calories: 645 calories
Ingredients
Slow Cooker Mexican Chicken
2-2.5 lbs skinless boneless chicken breast
16 oz chunky salsa
1/3 cup BRIANNAS Cilantro Lime Dressing + more as drizzle
1/2 cup chicken broth
1/2 tsp chili powder
1/2 tsp cumin
1/2 tsp smoked paprika
Other ingredients for the bowl
4 cups cooked rice
2 cups frozen sweet corn
1 16oz canned black beans, low sodium
3 small avocados
1/4 cup chopped cilantro
1 lime
 Instructions
Add all "Slow Cooker Mexican Chicken" ingredients to the slow cooker. Set on high and cook for 4 hours.
Shred chicken (it should come apart really easily!) and let it cook/sit for 10 more minutes. Optional: Add salt to taste if needed (mine was just right without additional salt but this may vary!)
Prepare the other ingredients - cook rice, heat frozen corn and black beans in the microwave, chop cilantro, dice avocados, and cut lime into wedges. (See Note 1)
Assemble rice bowls by adding rice, chicken, corn, black beans, and diced avocados to each bowl. Garnish with cilantro and lime wedges. Drizzle with BRIANNAS Cilantro Lime Dressing.
Serve and enjoy!
Nutrition
Calories: 645kcal | Carbohydrates: 64g | Protein: 56g | Fat: 21g | Saturated Fat: 3g | Polyunsaturated Fat: 2g | Monounsaturated Fat: 8g | Cholesterol: 90mg | Sodium: 409mg | Potassium: 1077mg | Fiber: 8g | Sugar: 6g
---