Sheet Pan Chicken and Cauliflower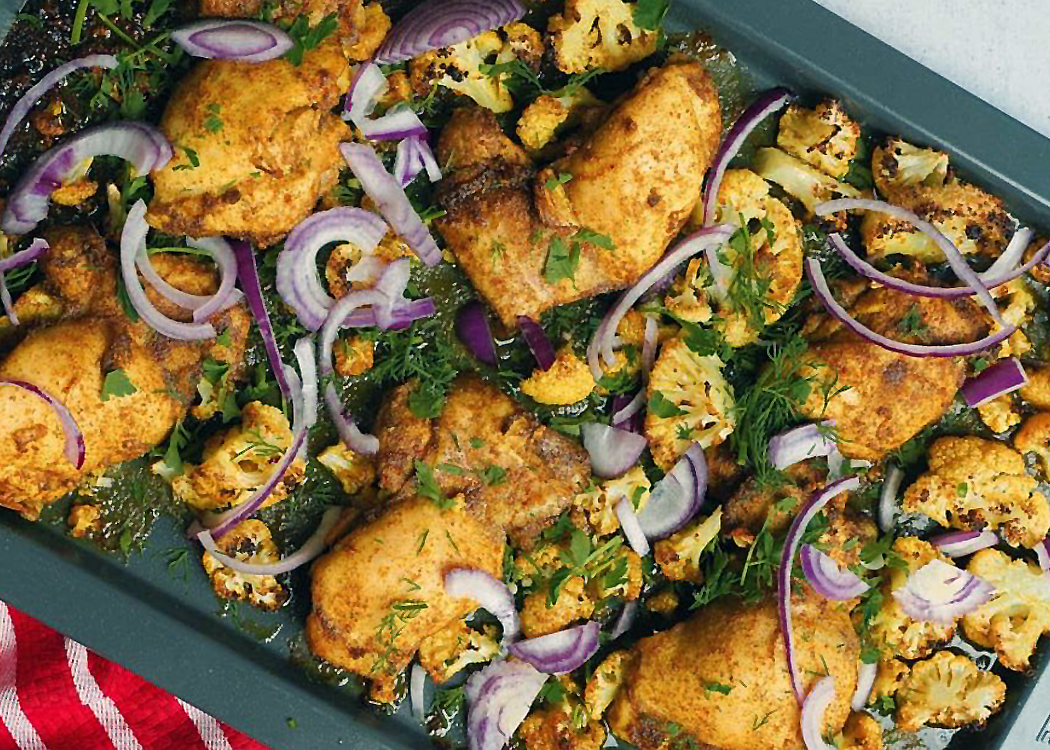 This sheet pan chicken with cauliflower is spiced, extra rich in flavors, very easy to make, and yummy. The meal is great for meal prep, it's high in protein, low carb, Paleo, Whole30, gluten-free, and dairy-free.
Prep Time: 20 minutes Cook Time: 30 minutes Total Time: 50 minutes Servings: 4 Calories: 583 calories
Ingredients
CHICKEN
6 chicken thighs (boneless, skinless)
1/2 cup olive oil
1 tsp turmeric
1 tsp paprika
1 tsp cumin
1/2 tsp cinnamon
1 tbsp ground ginger
4 garlic cloves (minced)
CAULIFLOWER
3 tbsp olive oil
2 tsp garlic powder
1 large cauliflower head (or 2 small ones)
FOR SERVING (OPTIONAL)
Parsley (chopped)
Dill (chopped)
Red onion (thinly sliced)
Instructions
Preheat the oven to 400F.
In a large bowl, mix together olive oil, turmeric, paprika, cumin, cinnamon, ground ginger, and garlic. Coat the chicken in it and leave it for at least 30 minutes.
Rinse and cut your cauliflower head into florets.
In a separate bowl, mix together 3 tbsp olive oil and garlic powder. Toss cauliflower in it until it's well coated.
Spread the cauliflower on a baking sheet, cover it with chicken thighs, and make sure to pour all the oil in to cover some of the cauliflower too.
Roast in the oven for 30 minutes until the chicken is fully cooked.
Garnish with parsley, dill, and red onion.
Nutrition
Calories: 583 | Total Fat: 39g | Saturated Fat: 6.5g | Trans Fat: 0g | Unsaturated Fat: 30g | Cholesterol: 193mg | Sodium: 404mg | Carbohydrates: 14gNet Carbohydrates: 9.3gFiber: 4.7gSugar: 4.1gProtein: 47g
---