Low Carb Chicken Caesar Salad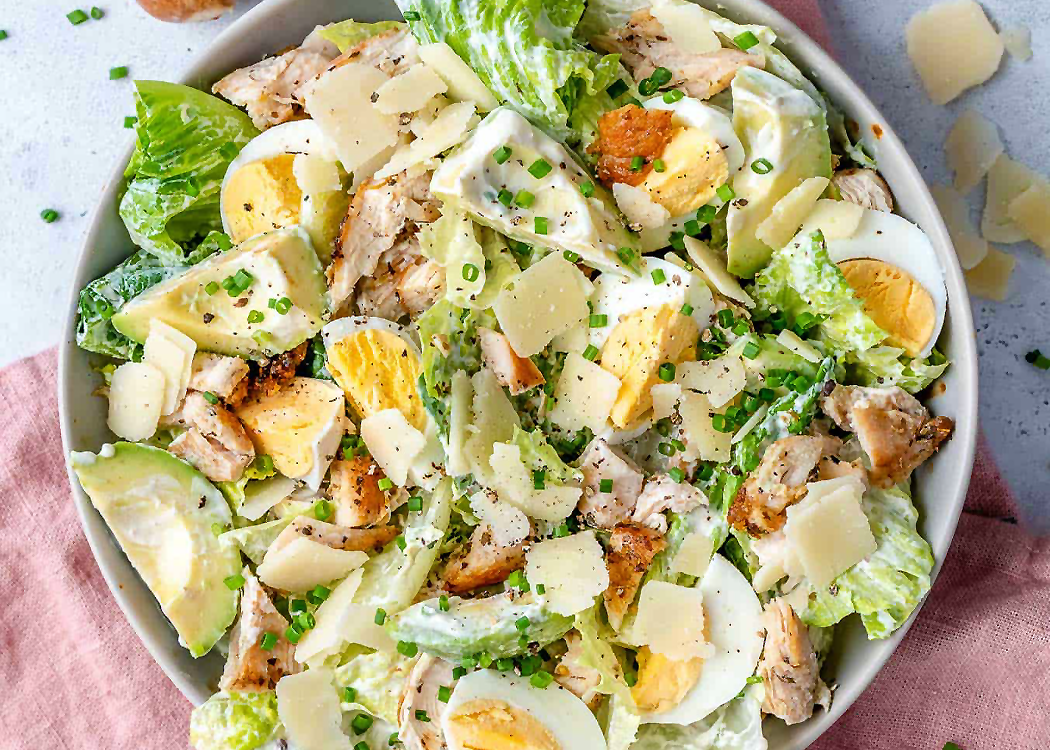 Make this easy and healthy Chicken Caesar Salad for lunch or dinner in just 30 minutes. Loaded with protein, low in carbs, so delicious, and made with a healthy homemade dressing.
Prep Time: 15 minutes Cook Time: 15 minutes Total Time: 30 minutes Servings: 4 Calories: 644 calories
Ingredients
For chicken:
2 tbsp. Olive Oil
1 tbsp. Dried Oregano
1/2 tsp. Kosher Salt
4 Chicken Breasts skinless, boneless
For Dressing:
1 cup Plain Greek Yogurt
Juice of 1/2 lemon
1 oz Anchovy fillets minced, optional
1/2 tbsp. Dijon Mustard
1/2 tsp. Garlic Powder
1/2 tsp. Onion Powder
1/2 tsp. Kosher Salt or to taste
1/4 tsp. Ground Pepper or to taste
For Salad:
4 Hard-boiled eggs peeled and quartered
1 large Romaine or Cos lettuce chopped into large pieces
2 medium Avocados pitted and chopped
1/4 cup Parmesan cheese shaved or grated
2 tbsp. Chopped chives to garnish
Whisk olive oil, oregano, and salt in a small mixing bowl. Place the chicken breast into a ziplock bag, pour the prepared rub, and seal the bag.
Gently press the marinade around the chicken to coat evenly. Refrigerate and let marinate for at least 1 hour (or overnight if time allows)
Mix all the dressing ingredients in a bowl, cover, and refrigerate until ready to use.
When ready to cook the chicken take it out of the fridge and let it sit on the counter for about 15 minutes to allow it to get to room temp.
Heat a large skillet or a grill over medium-high heat. Cook the marinated chicken for 6-8 minutes without moving. Avoid pressing and prodding.
After 6-8 minutes flip the chicken and cook on the second side until golden brown, about 4-6 minutes.
While the chicken is cooking, boil the eggs. Chop the lettuce into large pieces and slice the avocado into chunks.
Once the chicken is done, remove it from the pan/grill and transfer it to a cutting board. Allow it to sit for a few minutes, then slice and set aside.
Peel and slice the eggs into quarters and set aside.
For assembling, place the chopped lettuce and avocado in a large salad bowl. Add eggs and sliced chicken.
Drizzle the prepared dressing all over the chicken. Sprinkle with grated parmesan cheese and top with chives.
Taste and adjust the salt and pepper, if needed.
Notes
Substitutes:
Avocado or olive oil
Anchovy is optional if you don't like them
Romaine, Coss lettuce, or mixed greens
Nutrition
Calories: 644kcal | Carbohydrates: 15g | Protein: 66g | Fat: 36g | Saturated Fat: 7g | Cholesterol: 342mg | Sodium: 958mg | Potassium: 1570mg | Fiber: 9g | Sugar: 3g | Vitamin A: 1518IU | Vitamin C: 17mg | Calcium: 254mg | Iron: 4mg
---