Keto Cauliflower Mac and Cheese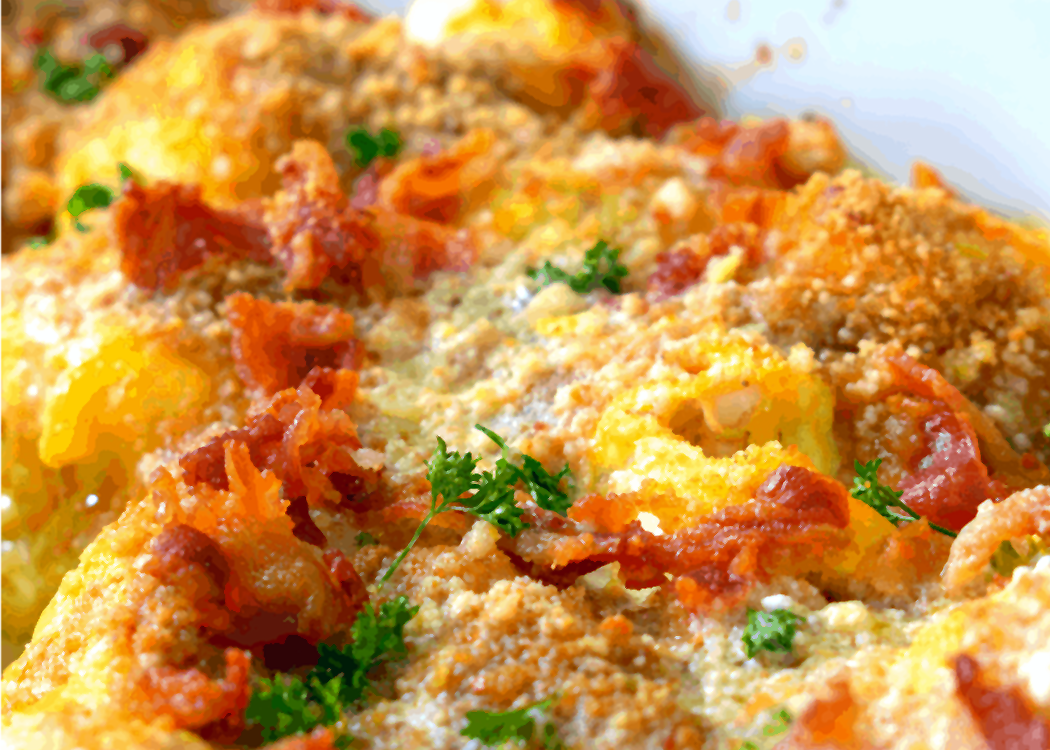 Looking for an amazing keto cauliflower mac and cheese recipe? Then you have to try out this keto cauliflower mac and cheese with pork rinds. This easy keto mac and cheese recipe is great for a quick family lunch or dinner with only 5 grams of net carbs per serving.
Prep Time: 10 minutes Cook Time: 35 minutes Total Time: 45 minutes Servings: 4 Calories: 646 calories
Ingredients
1 head cauliflower, cut into florets
1 cup heavy cream
4 tbsp cream cheese, softened
1/2 tsp onion powder
1/2 tsp garlic powder
1 ½ cup shredded cheddar cheese
1 ½ cup shredded mozzarella cheese
1/4 cup pork rinds Panko crumbs
1/2 cup grated Parmesan cheese
3 tbsp butter, melted
4 slices bacon, diced and cooked to a desired crispiness
fresh parsley, for garnish
salt and fresh ground pepper, to taste
Instructions
To start, preheat the oven to 375˚F (180° C) and butter a 9×13 baking dish.
In a large pot, bring salted water to a boil, then add cauliflower florets and cook for 15 minutes.
Drain the cauliflower in a colander and place in the baking dish.
Then in a medium bowl add heavy cream, cream cheese, onion powder, garlic powder, cheddar, and mozzarella cheese, and mix well.
Pour the cheese mixture over the cauliflower and toss to coat.
Bake, covered, for 10 minutes, stirring occasionally, until the cheese has completely melted.
Meanwhile, in a small bowl, combine pork rind crumbs and grated Parmesan cheese. After 10 minutes, sprinkle the Parmesan mix in an even layer over the cauliflower.
Add melted butter, bacon, and fresh parsley and bake, uncovered, for 10 minutes, or until hot and bubbly. 
Add more parsley for garnish, if desired, and serve this keto cauliflower mac and cheese while hot!
Nutrition
Calories: 646kcal | Carbohydrates: 7g | Protein: 30g | Fat: 50g | Saturated Fat: 26g | Cholesterol: 133mg | Sodium: 1282mg | Potassium: 1121mg | Fiber: 2g
---