Kale and Steak Power Salad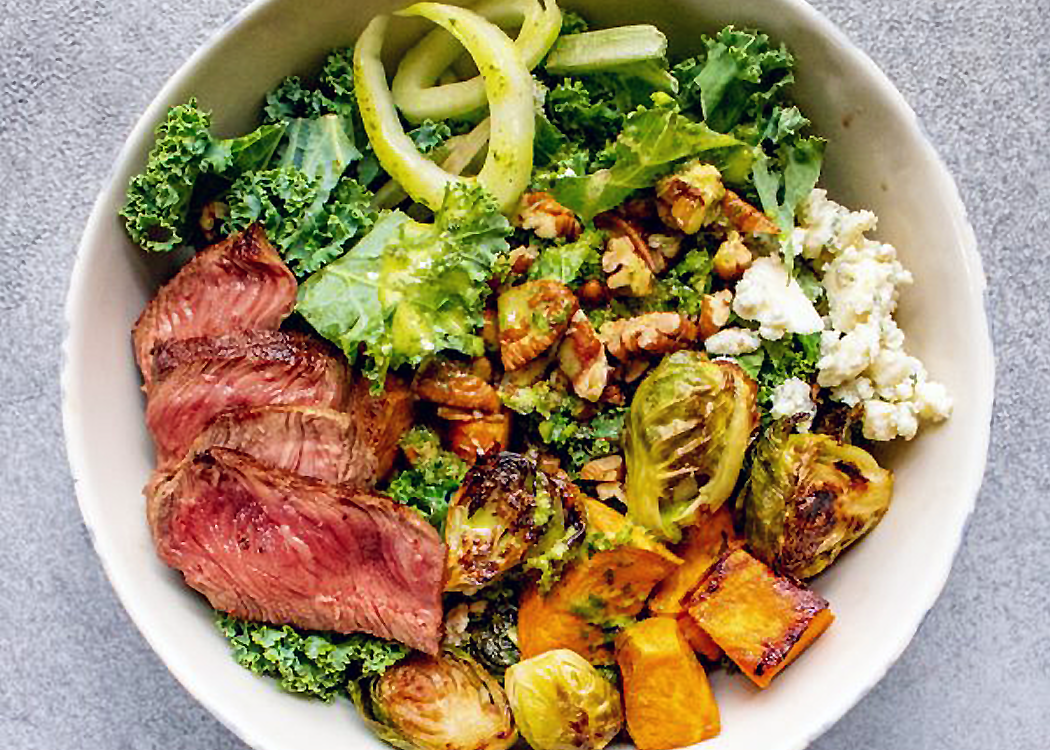 This kale and steak power salad has a zesty and refreshing burst of flavors that complement the steak, fennel, and blue cheese. The power behind this kale salad is its high protein content paired with the superfood sweet potato. 
Prep Time: 10 minutes Cook Time: 37 minutes Total Time: 47 minutes Servings: 6 Calories: 665 calories 
Ingredients
For Lemon Herb Dressing
¼ cup olive oil
¼ cup fresh lemon juice
½ cup fresh parsley
1 tablespoon raw honey
1 teaspoon dried basil
1 teaspoon dried thyme
½ teaspoon sea salt
For Steak
2 teaspoon olive oil for greasing
1 lb. sirloin or strip steak
1 teaspoon sea salt
¼ teaspoon cracked black pepper
For Salad
2 tablespoon olive oil
2 cups chopped sweet potatoes
2 cups halved Brussels sprouts
8 cups shredded kale
½ cup thinly sliced fennel bulb
½ cup blue cheese
⅓ cup chopped pecans
½ cup lemon herb dressing  above
Instructions
For Dressing
Combine ingredients for dressing in a blender or Nutri-bullet and blend until smooth. Refrigerate until serving.
For Salads
Preheat oven to 400ºF and lime a medium baking sheet with parchment paper. Add Brussels sprouts and sweet potato. Drizzle with olive oil and season with sea salt and pepper. Gently toss with hands to coat. Roast for 25 minutes, stirring halfway through cooking. Remove from oven and cool at room temperature while cooking steak.
Heat olive oil over medium-high heat in a cast-iron pan for 2 minutes. Season steaks with salt and pepper on both sides. Place onto the hot pan and sear for 4-5 minutes on each side, depending on thickness and desired doneness (rare, medium, well). Rest steaks on a cutting board for 5 minutes.
Add 2 cups of kale to 4 GoodCook round containers and top with fennel, roasted vegetables, pecans, blue cheese, and sliced steak. Add dressing to 4 sauce cups included in the package. Store in refrigerator until enjoying. 
Nutrition
Serving: 1 meal | Calories: 631kcal | Carbohydrates: 33g | Protein: 48g | Fat: 39g | Fiber: 9g
---