Healthy Chicken Pasta Salad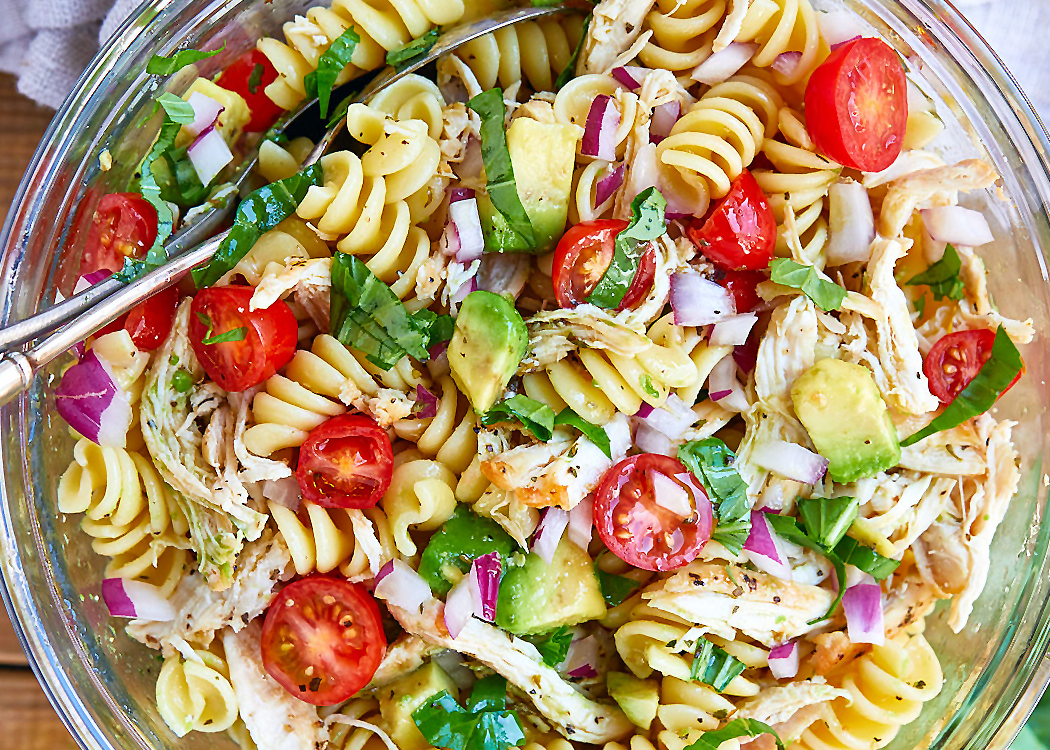 Healthy Chicken Pasta Salad Recipe – Packed with flavor, protein, and veggies! This healthy chicken pasta salad is loaded with tomatoes, avocado, and fresh basil. 
Prep Time: 10 minutes Cook Time: 10 minutes Total Time: 20 minutes Servings: 6 Calories: 665 calories
Ingredients
Chicken Pasta Salad Recipe
2 medium-cooked chicken breasts, shredded or chopped (we used rotisserie chicken)
2 ripe avocado pitted and diced
1 pound cooked rotini pasta or similar
1/2 cup chopped red onion
1 cup cherry tomatoes, halved
1/2 cup freshly chopped basil
Salt and fresh cracked pepper, to taste
Dressing
1/2 cup white wine vinegar
1 tablespoon Italian seasoning
3/4 cup extra virgin olive oil
Salt and pepper to taste
Directions
To make this healthy chicken pasta salad recipe: In a large bowl, add the salad ingredients, the shredded chicken, pasta, onion, avocado, cherry tomatoes, and basil.
In a jar, combine the ingredients for the dressing: vinegar, Italian seasoning, Olive oil, salt and pepper.
Drizzle your chicken pasta salad with the dressing. Toss gently until all the ingredients are combined. Serve the chicken pasta salad immediately, or chill for later.
Dressing for the Pasta Salad
whisk white wine vinegar, extra-virgin olive oil, Italian seasoning, and a pinch of salt and pepper. 
To customize your pasta salad dressing, add a tablespoon of Greek yogurt, or use apple cider vinegar for a milder taste. 
Notes
Additional add-ins that go well with this salad would include chopped cucumber, crispy bacon, corn, olives, black beans…
To keep the avocado from turning brown, coat the avocado in either lemon juice or lime juice. It will act as an antioxidant.
Being a cold chicken pasta salad makes it perfect for summer, picnics or potlucks. You can make it up to a day in advance, leaving the avocado and tomato until you are ready to serve the chicken pasta salad to keep the ingredients as fresh as possible.
Nutrition
Calories: 665kcal | Carbohydrates: 67g | Protein: 34g | Fat: 32g | Saturated Fat: 6g | Cholesterol: 63mg | Sodium: 203mg | Potassium: 953mg | Fiber: 13g | Sugar: 6g
---