One-pot Spinach, Chicken Sausage & Feta Pasta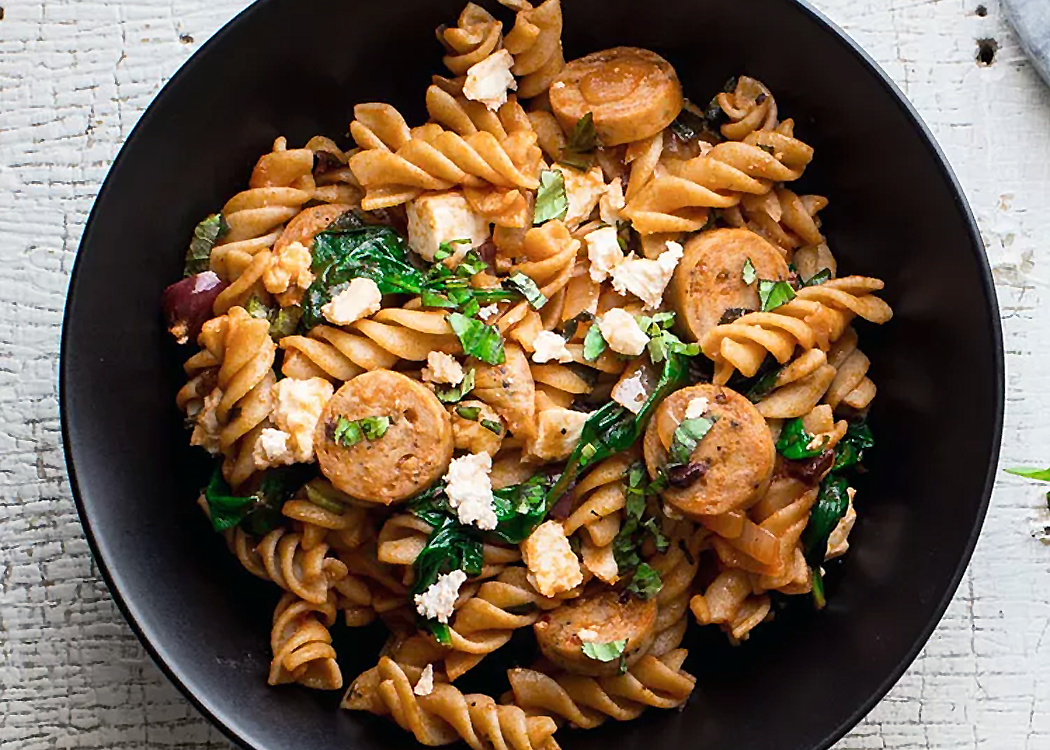 A little bit of Sunday meal prep goes a long way in this one-dish pasta recipe. Chicken sausage with feta is especially good in this recipe.
Prep Time: 5 minutes Cook Time: 15 minutes Total Time: 20 minutes Servings: 3 Calories: 487 calories
Ingredients
2 tablespoons olive oil
3 links cooked chicken sausage (9 ounces), sliced into rounds
1 cup diced onion (see Tip)
1 clove garlic, minced
1 (8-ounce) can of no-salt-added tomato sauce
4 cups lightly packed baby spinach (half of a 5-ounce box)
6 cups cooked whole-wheat rotini pasta
¼ cup chopped pitted Kalamata olives
½ cup finely crumbled feta cheese
¼ cup chopped fresh basil (Optional)
Directions
Heat oil in a large straight-sided skillet over medium-high heat. Add sausage, onion, and garlic; cook, stirring often, until the onion is starting to brown, 4 to 6 minutes. Add tomato sauce, spinach, pasta, and olives; cook, stirring often, until bubbling hot and the spinach is wilted, 3 to 5 minutes. Add 1 to 2 tablespoons water, if necessary, to keep the pasta from sticking. Stir in feta and basil, if using. 
Nutrition Facts
2 cups: 3487 calories | 20g fat (4g saturated fat) | 62mg cholesterol |623mg sodium | 59g carbohydrate | 7g sugars | 8g fiber | 23g protein
---