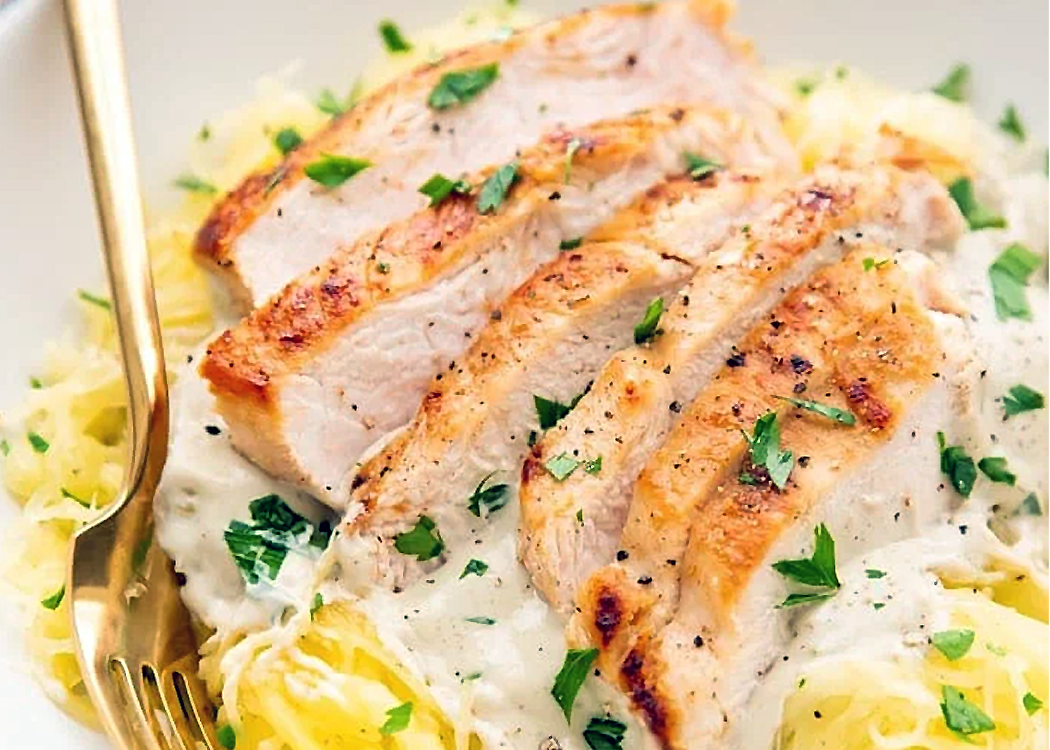 A rich and creamy chicken alfredo made with a dairy-free cashew alfredo sauce and tender spaghetti squash "noodles." Shockingly good.
Prep Time: 5 minutes Cook Time: 10 minutes Total Time: 15 minutes Servings: 4 Calories: 489 calories
Ingredients
Dairy-Free Alfredo Sauce
1 ½ cups raw cashews
3/4-1 cup water or unsweetened almond milk
2 cloves garlic, peeled
2 tablespoons fresh lemon juice
2 tablespoons nutritional yeast
1 ½ teaspoon salt plus more to taste
1 teaspoon dried basil
Healthy Chicken Alfredo
2 medium chicken breasts
Salt and freshly cracked black pepper
1 tablespoon avocado oil or olive oil, plus more as needed
28 ounces cooked spaghetti squash from about 1 large spaghetti squash
fresh parsley, chopped
Instructions 
Make the chicken:
Season the chicken breasts on both sides with plenty of salt and pepper. Heat 1 tablespoon avocado oil over medium-high heat, then carefully add chicken breasts to the pan. Cook 8-9 minutes total for medium chicken breasts and 9-10 minutes for large chicken breasts, flipping once in between cooking time. Add a little more oil to the pan if necessary.
When cooked through, remove from pan and let rest 5 minutes. Then slice into strips against the grain.
Make the dairy-free alfredo sauce:
In a high-speed blender, combine all ingredients. Blend until completely smooth and hot. If your blender does not heat the contents, transfer the sauce to a saucepan and heat over low heat.
Assemble the healthy chicken alfredo:
Heat the spaghetti squash through, either in the microwave or in a large skillet, then top with the dairy-free alfredo sauce and sliced chicken. Garnish with fresh chopped parsley and more freshly cracked black pepper.
Notes
To make spaghetti squash: Halve your spaghetti squash and scoop out the seeds with a spoon. Discard seeds. Place spaghetti squash halves on a baking sheet or in a roasting pan. Add a little water if you like, about 1/2 cup, to help steam the squash. Roast at 400º F for 30-45 minutes or until easily pierced with a fork. Remove from oven and let cool slightly, then use a fork to gently scrape the flesh out of the skins, separating the flesh into strands or "spaghetti."
Nutrition
Calories: 489kcal | Protein: 35g | Fat: 28g | Saturated Fat: 4g | Cholesterol: 72mg | Sodium: 1035mg | Potassium: 964mg | Total Carbs: 27g | Fiber: 4g | Sugar: 6g |  Net Carbs: 23g
---