Crockpot Chicken And Rice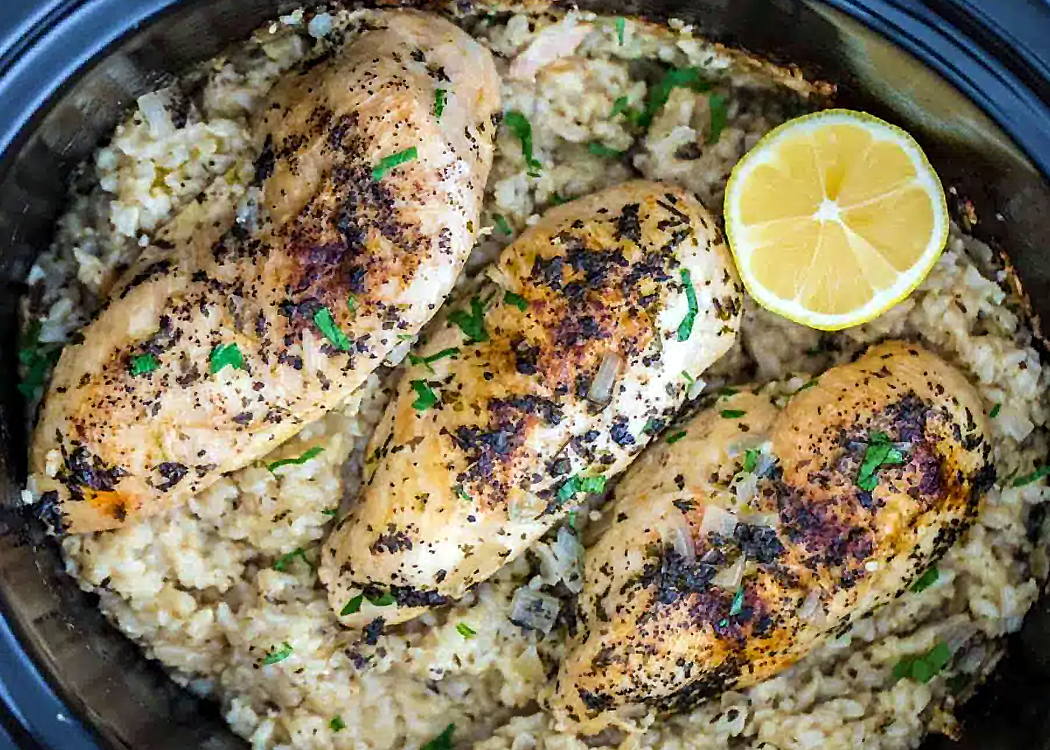 Crockpot Chicken and Rice is easy to make, healthy, creamy, and lemony. This home-cooked meal is delicious, gluten-free, and kid-friendly and made with real ingredients like brown rice, chicken breast, and lemon. With this easy recipe, you let the slow cooker do all the work for you and the end result is a perfectly satisfying meal.
Prep Time: 20 minutes Cook Time: 180 minutes Total Time: 200 minutes Servings: 4 Calories: 508 calories
Ingredients
2 tablespoons olive oil
3-4 medium chicken breasts, skinless or bone-in chicken thighs
1 1/2 cups long-grain brown rice
1 small onion, diced
3 cloves garlic, minced
1 teaspoon dried oregano
1 teaspoon dried parsley flakes
1/4 teaspoon salt and black pepper
1 teaspoon dried basil
1/2 teaspoon lemon zest
1 tablespoon lemon juice
3 cups chicken broth, low sodium
6 cloves garlic, whole and browned
2 tablespoons butter, unsalted
Instructions
Sear chicken:
Season chicken liberally with salt and pepper on both sides.
Place a large skillet over high heat, add oil and once it's hot add the chicken and brown it on both sides for about 5 minutes.
Slow cook:
Add the remaining ingredients to the crockpot, stir to combine, and place the chicken on top.
Cook on HIGH for 2.5 to 3 hours. Check on the rice after 2.5 hours, and if it needs more time, stir and continue to cook.
Nutrition
Calories: 508 kcal | Carbohydrates: 59g | Protein: 42g | Fat: 18g | Saturated Fat: 3g | Cholesterol: 98mg | Sodium: 859mg | Fiber: 3g | Sugar: 2g
---