Creamy Coconut Lime Chicken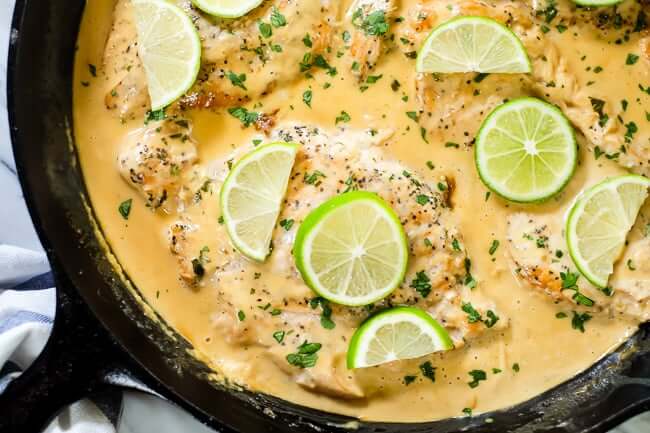 I really love Thai food and it always feels like comfort food to me! This Paleo and Whole30-friendly coconut lime chicken is so flavorful, fresh, and satisfying!
Prep Time: 10 minutes Cook Time: 20 minutes Total Time: 30 minutes Servings: 4 Calories: 502 calories
Ingredients
1 shallot, diced
4 cloves garlic, minced
1 tbsp fresh ginger, grated on a microplane
1/4 cup fresh cilantro, chopped, (plus more for topping)
1/3 cup lime juice, (about 2 limes)
4 chicken breasts, see notes
2 tbsp avocado oil, (or coconut oil)
1.5 cups coconut milk, see notes
1/4 cup chicken broth
Salt and pepper
Lime slices for topping, (optional)
Instructions
Prep shallot, garlic, ginger, and cilantro as noted. Juice limes and set aside.
Place the chicken breasts between two pieces of parchment paper and pound them down to make them even in thickness. Sprinkle each side of the chicken with salt and pepper.
Heat a large skillet over medium heat and add avocado oil.
Once hot, add the chicken to the pan (you may have to cook the chicken in 2 batches depending on the size of your pan). Cook, without disturbing for 3-4 minutes, until a nice brown crust has formed. Flip and cook another 3-4 minutes on the other side, until the chicken is mostly cooked through.
Remove chicken from the skillet and set aside. Lower the heat to medium.
Add more oil if needed and add the garlic and shallot to the pan. Cook, stirring constantly, for 1-2 minutes.
Add chicken broth, coconut milk, lime juice, ginger, and cilantro to the pan. Stir to mix, scraping up any browned bits remaining in the pan from when you cooked your chicken.
Add the chicken breasts back to the skillet with the sauce. Cover and turn the heat down to low. Simmer for 5 minutes, or until the chicken is fully cooked.
Serve with vegetables, potatoes, rice, or cauliflower rice. Spoon some sauce over everything for serving. Sprinkle with cilantro and garnish with lime slices (optional).
Notes
You can use chicken thighs instead of breasts for this recipe. You should not have to pound the thighs (step 2). Adjust cooking time if needed to ensure the chicken is fully cooked.
Nutrition
Calories: 502kcal | Carbohydrates: 6g | Protein: 50g | Fat: 31g | Saturated Fat: 18g
---