Cranberry Rosemary One Pan Chicken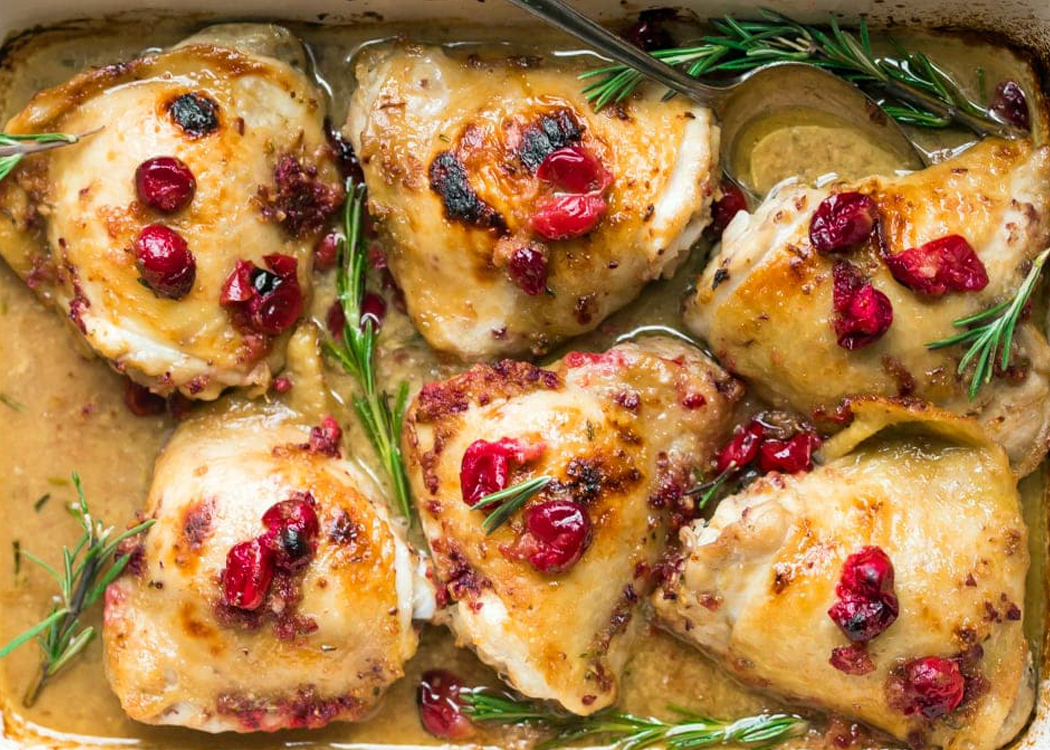 A quick and easy one-pan chicken recipe made with fresh cranberries and rosemary for a festive, gourmet, and healthy dinner recipe.
Prep Time: 15 minutes Cook Time: 45 minutes Total Time: 60 minutes Servings: 6 Calories: 524 calories
Ingredients
For the Cranberry Rosemary Marinade
⅓ cup fresh cranberries
2 tablespoons olive oil or avocado oil
2 tablespoons coconut aminos or soy sauce
2 tablespoons maple syrup
3 cloves garlic
1 teaspoon fresh rosemary leaves
¼ cup dry white wine
For the Chicken Thighs
3 pounds bone-in, skin-on chicken thighs approximately 6 chicken thighs
1 tablespoon olive oil or avocado oil
salt to taste
½ cup fresh cranberries
4 sprigs fresh rosemary plus more for garnish, if desired
Instructions
For the Cranberry Rosemary Marinade
Combine all marinade ingredients in a food processor or blender and process until smooth.
Place chicken, skin side up, in a 9x13 baking dish. Pour marinade over chicken thighs and spread marinade to coat chicken evenly.
Tightly cover the baking dish with a lid or plastic wrap. Place the covered dish in the refrigerator and let chicken thighs marinate for at least 30 minutes, no more than 24 hours.
30 minutes before baking, remove the dish from the oven and let it stand at room temperature.
For the Chicken Thighs
Preheat oven to 375º Fahrenheit. Scrape marinade off of chicken thighs and into baking dish.
Brush the skins of chicken thighs with 1 tablespoon olive oil and season with plenty of salt. Sprinkle ½ cup of fresh cranberries and 4 sprigs of rosemary into the baking dish around the chicken thighs. 
Place baking dish in preheated oven. Bake, uncovered, 25 to 35 minutes, or until the internal temperature of chicken thighs reads 160° Fahrenheit.
When the chicken reaches the desired temperature, remove the dish from the oven. Preheat the broiler to High. Remove rosemary sprigs from the baking dish and discard.
Brush 1 tablespoon of maple syrup over the skin of the chicken thighs. Place baking dish under broiler, about 10" from the heating element. Broil until the skin of the thighs is crispy but not burnt, approximately 4 to 7 minutes depending on the broiler. Note: Do not broil the dish unattended, as chicken can burn quickly. Move the dish around periodically to brown the chicken evenly if necessary. 
Remove the baking dish from the oven: spoon cranberries and sauce from the baking dish onto the tops of the chicken thighs. Garnish with fresh rosemary sprigs and serve immediately with plenty of sauce from the baking dish.
Notes
I have to move my baking dish around underneath the broiler every 3 minutes to ensure an even browning.
Make it Whole30: Replace the maple syrup in the marinade with more coconut aminos. Skip the maple syrup brushed onto the skin before broiling; replace it with more olive oil if desired. Replace the white wine with chicken broth.
Make it Strict Paleo: Use coconut aminos instead of soy sauce.
Nutrition
Serving Size: 1serving | Calories: 524kcal | Protein: 31g | Fat: 39g | Saturated Fat: 10g |TransFat: 0.2g | Cholesterol: 189mg | Sodium: 263mg | Potassium: 435mg | Total Carbs: 8g | Fiber: 1g | Sugar: 5g | Net Carbs: 7g | Vitamin A: 161IU |Vitamin C: 2mg | Calcium: 28mg | Iron: 1mg
---