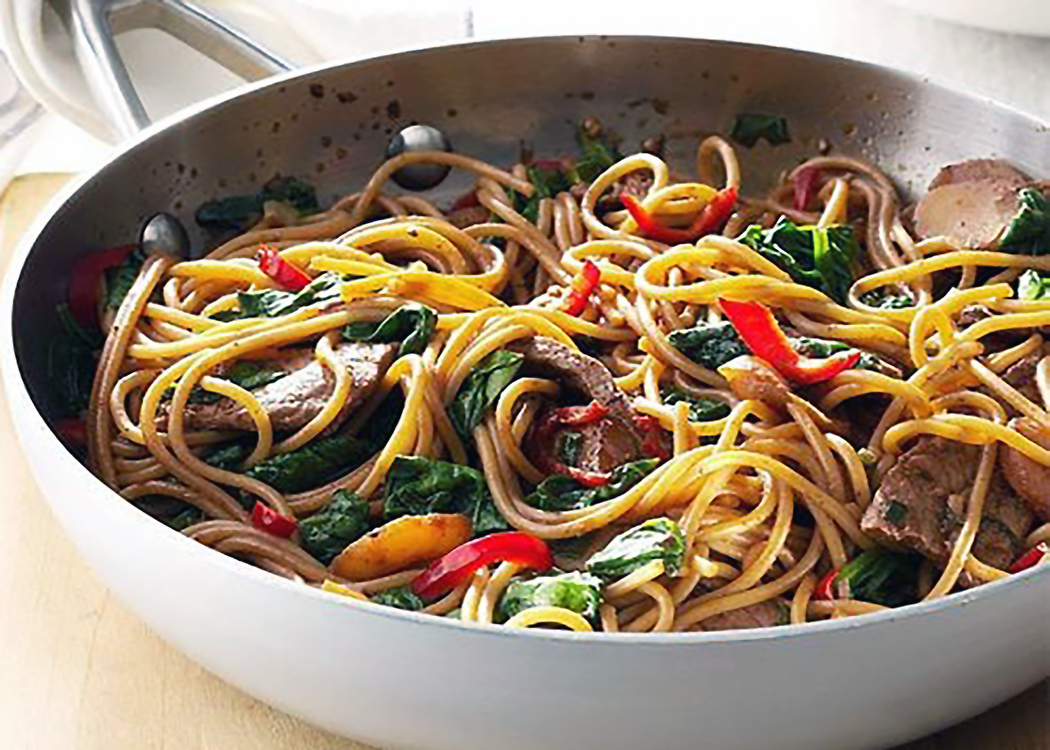 If you like a good stir-fry, this beef and spinach lo mien will definitely satisfy. 
Prep Time: 15 minutes Cook Time: 15 minutes Total Time: 30 minutes Servings: 5 Calories: 558 calories
Ingredients
1/4 cup hoisin sauce
2 tablespoons soy sauce
1 tablespoon water
2 teaspoons sesame oil
2 garlic cloves, minced
1 inch ginger root, grated
1/4 teaspoon crushed red pepper flakes
1 pound beef top round steak, thinly sliced
6 ounces uncooked spaghetti
4 teaspoons canola oil, divided
1 can (8 ounces) sliced water chestnuts, drained
2 green onions, sliced
1 package (10 ounces) fresh spinach, coarsely chopped
1 red chili pepper, seeded and thinly sliced
Directions
In a small bowl, mix the first 6 ingredients. Remove 1/4 cup mixture to a large bowl; add beef and toss to coat. Marinate at room temperature for 10 minutes.
Cook spaghetti according to package directions. Meanwhile, in a large skillet, heat 1-1/2 teaspoons of canola oil. Add half the beef mixture; stir-fry 1-2 minutes or until no longer pink. Remove from pan. Repeat with an additional 1-1/2 teaspoons oil and the remaining beef mixture.
Stir-fry water chestnuts and green onions in remaining canola oil for 30 seconds. Stir in spinach and remaining hoisin mixture; cook until spinach is wilted. Return beef to pan; heat through.
Drain spaghetti; add to beef mixture and toss to combine. Sprinkle with chili pepper.
Notes
Add more veggies including onions and bell pepper and also pre-season the steak with garlic salt and pepper before marinating.
Nutrition Facts
1-1/3 cups: 358 calories, 10g fat (2g saturated fat), 51mg cholesterol, 681mg sodium, 40g carbohydrate (6g sugars, 4g fiber), 28g protein.
---