BBQ Ranch Chicken Quinoa Bowls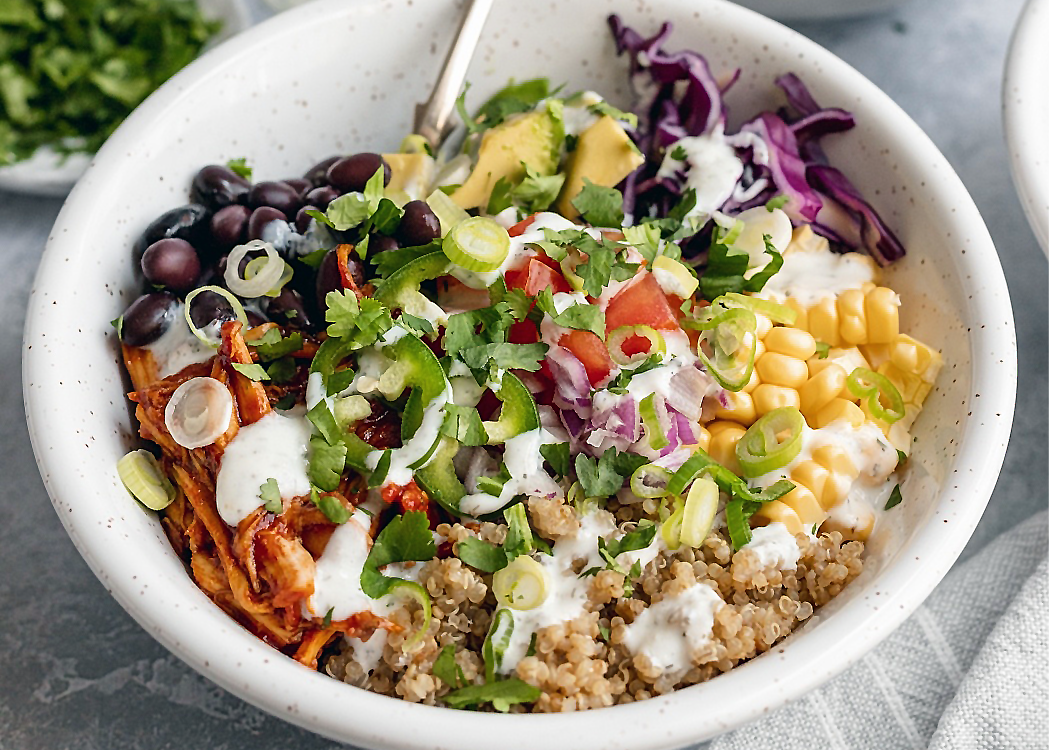 Delicious BBQ ranch chicken quinoa bowls loaded with black beans, crunchy red cabbage, sweet corn, tomato, onion, jalapeño, avocado, and your choice of creamy ranch dressing. The BBQ chicken for these healthy chicken quinoa bowls can be made in the slow cooker or grilled.
Prep Time: 15 minutes Cook Time: 3 hours Total Time: 3 hours 15 minutes Servings: 4 Calories: 551 calories
Ingredients
For the slow cooker:
1 pound boneless skinless chicken breast
1 cup low-sugar BBQ sauce (I love Stubb's spicy or Primal Kitchen Mango Habanero)
Optional: 1/4 cup water if you have a thicker BBQ sauce
For the quinoa:
1 cup uncooked quinoa
2 cups water
For the bowls:
1 (15 ounce) can black beans
2 cups shredded red cabbage
1 cup sweet corn (can use fresh or frozen but I love it off the cob)
¼ cup finely diced red onion
2 Roma tomatoes, diced
1 jalapeno, thinly sliced
1 avocado, diced or sliced
For the dressing:
1 batch of healthy Greek yogurt
To garnish:
Fresh chopped cilantro
Scallions
Instructions
SLOW COOKER CHICKEN: Place chicken and BBQ sauce in a slow cooker and stir so the BBQ sauce coats the chicken. Cook on high for 2.5-3 hours. Then remove the chicken from the slow cooker, shred it with two forks, and then place it back in the slow cooker, stir, and turn the heat to warm until you are ready to serve.
TO GRILL CHICKEN: marinate chicken in a bowl with BBQ sauce for 1 hour, then grill chicken over medium-high heat for 6-8 minutes per side, or until the meat thermometer reads 165 degrees F. Remove from grill and allow the chicken to sit for 5 minutes to retain juices, then cut into strips or dice into bite-sized pieces.
Once the chicken is done cooking or close to it, you can cook your quinoa: add water and quinoa to a medium pot and place over high heat. Bring to a boil, then reduce heat to low, cover, and cook for 15 minutes. Once the quinoa is done cooking, remove it from heat, fluff it with a fork, and place the lid back on to allow the quinoa to stay warm steam in the pot for 10 more minutes while you chop your veggies and make the Greek yogurt ranch dressing (or feel free to use store-bought ranch).
To prepare bowls: add about 3/4 cup quinoa to each bowl, top with about 1/4 of the shredded chicken, 1/3 cup black beans, 1/2 cup shredded cabbage, 1/4 cup corn, 1 tablespoon diced red onion, diced Roma tomatoes, a few sliced jalapenos, and avocado. Drizzle the bowls with 1-2 tablespoons ranch dressing. Garnish with fresh cilantro and scallions.
Nutrition
Serving: 1 bowl | Calories: 551 | Carbohydrates: 77g | Protein: 38g | Fat: 12g | Saturated Fat: 2g | Fiber: 14g | Sugar: 17g
---