Sweet Potato Black Bean Chili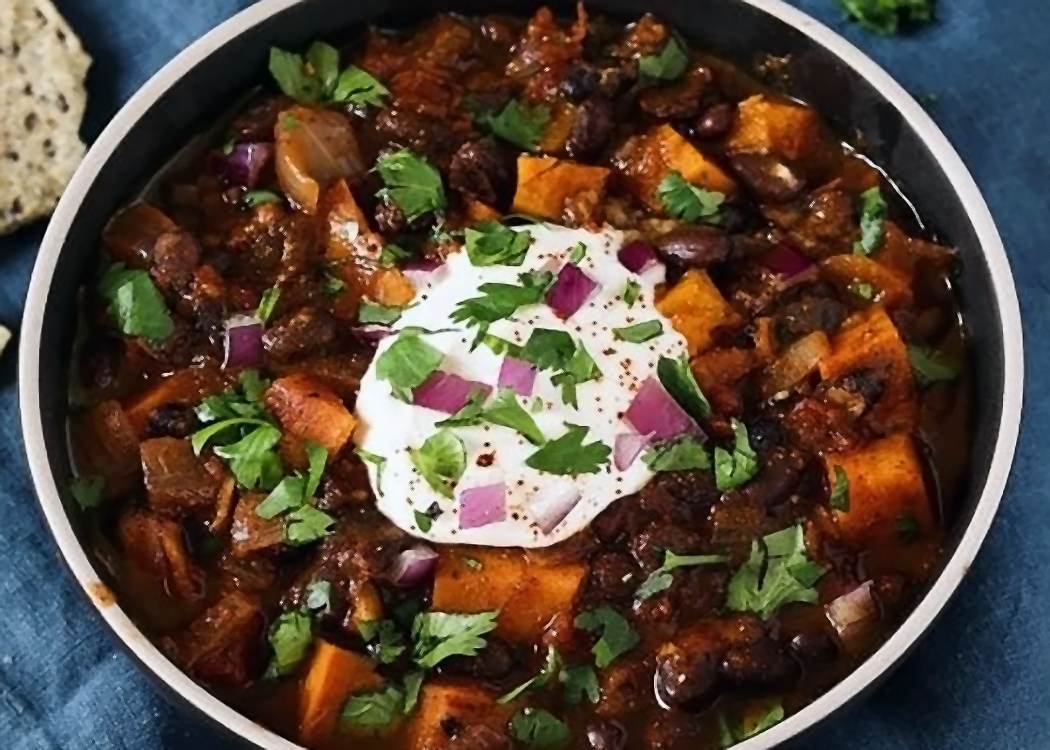 This Sweet Potato Black Bean Chili is an easy, satisfying meal that your family will love! It's smoky, robust, and subtly sweet.
Prep Time:15 minutes Cook Time: 35 minutes Total Time: 50 minutes Servings: 4 Calories: 381 calories
Ingredients
1 ½ tablespoons grapeseed oil (or preferred oil)
1 large red onion, diced
3-4 cloves garlic, minced
1 large sweet potato, peeled & cut into ½" pieces
1 ½ tablespoons chili powder
2 teaspoons ground cumin
1 teaspoon oregano
½ teaspoon cayenne pepper (more to taste)
2 ½ teaspoons cocoa powder, unsweetened
14 ounces fire fire-roasted tomatoes, canned
2 cups vegetable broth, low sodium
2 14-ounce cans of black beans, drained and rinsed
1 ½ teaspoons Himalayan salt, more to taste (or preferred salt)
2 tablespoons lime juice, freshly squeezed (more to taste)
Fresh cracked pepper, to taste
Instructions
In a large pot, heat oil over medium heat. When hot, add onion and a pinch of salt. Sauté until onion is translucent, about 5-6 minutes. 
Add garlic and sauté for 1 minute or until garlic is lightly golden brown. 
Add potatoes, chili powder, cumin, oregano, and cayenne. Sauté for 30-60 seconds until fragrant. Now add tomatoes and cocoa powder. Stir to combine well.
Add broth, salt, and pepper. Loosely cover the pot. Turn the heat up to get a simmer going. Once simmering, reduce heat between medium & medium-low to keep a light simmer. Cook for 15 minutes.
Now add the beans. Uncover the pot and lightly simmer for another 10 minutes or until the liquid cooks down a bit and the potatoes reach the desired consistency. 
Remove from heat and stir in lime juice. Taste for seasoning and add as needed. Let the chili rest a minute before serving. See notes for topping ideas. 
Notes
Topping ideas: fresh-cut cilantro, vegan sour cream, diced red onion, fresh-cut green onion, and vegan cheese shreds. 
Nutrition
Serving: 1Serving | Calories: 381kcal | Carbohydrates: 58g | Protein: 22g | Fat: 7g| Saturated Fat: 1g | Sodium: 585mg | Potassium: 897mg | Fiber: 21g | Sugar: 5g | Vitamin A: 1255IU | Vitamin C: 14.7mg | Calcium: 129mg | Iron: 7.3mg
---