Roasted Sweet Potato Cauliflower Quinoa Bowls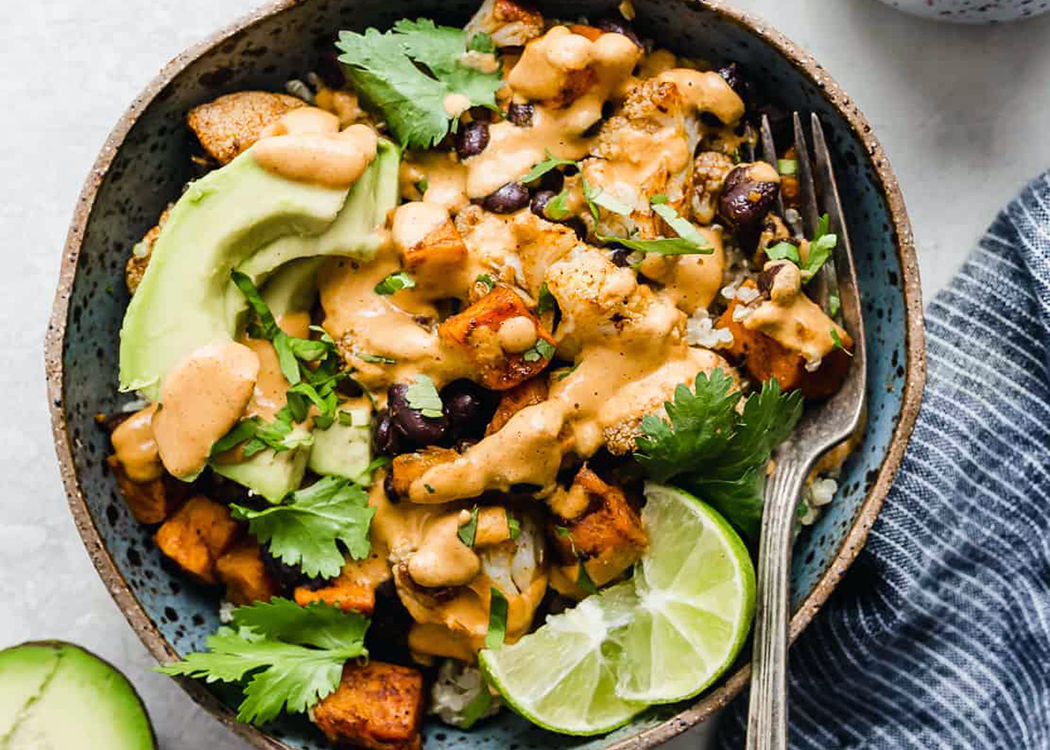 These roasted sweet potato and cauliflower quinoa bowls are packed with healthy vegetables and the quinoa superfood to give you a delicious vegetarian dinner option the entire family will love.
Prep Time: 25 minutes Cook Time: 30 minutes Total Time: 55 minutes Servings: 6 Calories: 427 calories 
EQUIPMENT
INGREDIENTS
1 large cauliflower cut into bite-size florets
1 large sweet potato peeled and diced into 1/2-inch cubes
3 tablespoons olive oil
1 teaspoon chili powder
1 teaspoon ground cumin
1 1/4 teaspoon smoked paprika
3/4 teaspoon garlic powder
1 teaspoon kosher salt
1 - 14 oz can black beans drained and rinsed
Cashew Crema
1/2 cup cashews
1/2 chipotle pepper from a can in adobo sauce (this is for a more family-friendly version. Add a full pepper for more heat).
1 teaspoon chili powder
1 teaspoon smoked paprika
1 teaspoon ground cumin
3/4 cups water
INSTRUCTIONS
Preheat oven to 425°F. Spray a baking sheet with nonstick spray. Set aside. 
In a large bowl add the cauliflower and sweet potato. Drizzle the olive oil over top. Toss to coat. Sprinkle on the chili powder, cumin, paprika, garlic powder and salt. Toss to coat. Spread the mixture on a baking sheet and roast in the oven for 25 minutes tossing halfway through baking.
After 25 minutes, pour the black beans on the baking sheet and place back in the oven for 4-5 minutes or until warmed. 
Cashew Crema
While the veggies are roasting make the crema. To a blender add the cashews, chipotle pepper, chili powder, paprika, cumin, and water. Blend until smooth. You can make this in advance and store it in an airtight container. It will keep for up to 1 week. 
To Assemble the Bowls
Spoon 1 cup of cooked quinoa in a large bowl. Spoon a large scoop of the roasted veggies and beans over the quinoa. Place several avocado slices in the bowl. Drizzle the crema overtop. Garnish with chopped cilantro and a squeeze of fresh lime juice.
NOTES
Cashew Crema: I like to drizzle a lot of this over top! So often times I'll double the recipe to have more on hand. Store, cover, and keep in the fridge for up to 1 week.
NUTRITION
Calories: 427kcal | Carbohydrates: 61g | Protein: 16g | Fat: 15g | Saturated Fat: 2g | Sodium: 758mg | Potassium: 1153mg | Fiber: 14g | Sugar: 7g | Vitamin A: 8606IU | Vitamin C: 71mg | Calcium: 104mg | Iron: 6mg
---