Moroccan Lentil Meatballs With Roasted Red Pepper Sauce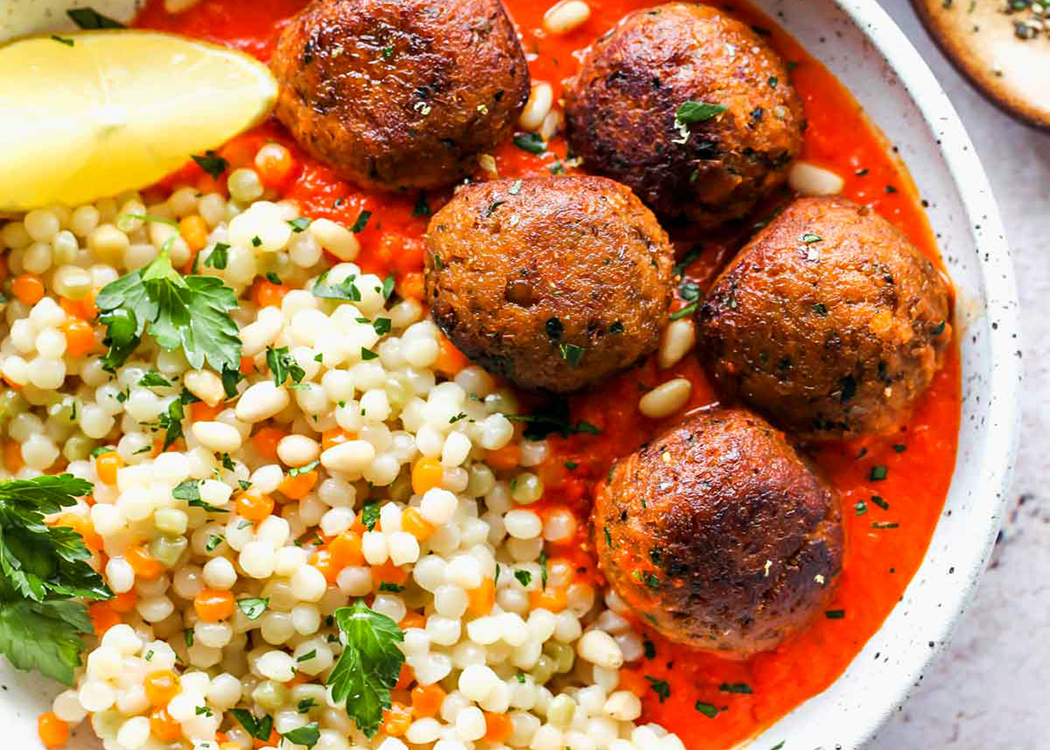 Moroccan Lentil Meatballs with Roasted Red Pepper Sauce are made with simple ingredients and come together in just 30 minutes. These veggie meatballs are kid-friendly and great for meal prep.
Prep Time: 15 minutes Cook Time: 10 minutes Total Time: 25 minutes Servings: 4 Calories: 400 calories 
Equipment
Food processor
Large skillet
Ingredients
Lentil Meatballs
1 (14.5-oz.) can lentils, rinsed and drained
¾ cup plain unseasoned breadcrumbs
½ cup roughly chopped red onion
¼ cup fresh parsley leaves (no need to chop)
1 egg *sub flax egg if making vegan
2 Tbsp. tomato paste
1 tsp. soy sauce or tamari (optional for added savoriness)
1 ½ tsp. minced fresh garlic
1 tsp. dried oregano
1 tsp. smoked paprika
½ tsp. each kosher salt and black pepper
2 Tbsp. olive oil for cooking
Roasted Red Pepper Sauce
1 (12-oz.) jar of roasted red peppers, drained
¼ cup extra-virgin olive oil
2 Tbsp. harissa (I use Mina brand)
½ Tbsp. minced fresh garlic
½ tsp. each kosher salt and black pepper
Optional side
Pearl couscous cooked in vegetable broth and served with fresh chopped parsley, pine nuts, and a squeeze of fresh lemon juice
Instructions
Start by preparing the Lentil Meatballs: In the bowl of a food processor, combine the lentils, breadcrumbs, onion, parsley, egg, tomato paste, soy sauce, garlic, oregano, paprika, salt and pepper. Pulse, mixing until combined, but not puréed, leaving a little texture. (The texture should be similar to dough. If it feels too wet to roll, mix in extra breadcrumbs.) Transfer the mixture to a bowl and wipe the food processor clean.
Prepare the Roasted Red Pepper Sauce: Add roasted red peppers, olive oil, harissa, garlic, salt, and pepper to the food processor. Blend the mixture until smooth; set aside.
Use a medium cookie dough scoop to scoop out Tablespoon amounts of lentil meatball mixture and roll into 18 balls.
In a large skillet, heat 2 tablespoons olive oil. Once hot, add the lentil meatballs and cook for 5 to 7 minutes, until golden brown and slightly crisp. Shake the pan or use a wooden spoon to roll the balls around to cook evenly on all sides. (Note: if you're using a smaller pan, cook the meatballs in two batches.)
Pour the roasted red pepper sauce into the skillet with the cooked lentil meatballs. Garnish with fresh chopped parsley, if desired, and serve with your side(s) of choice. 
Notes
To make vegan: Combine 1 tablespoon flaxseed meal with 2 ½ tablespoon water in a small bowl. Let the mixture sit for 3 to 5 minutes until it becomes thick and gelatinous. Add the flax egg to the food processor with the rest of the meatball ingredients. 
Make-ahead: Unshaped lentil meatball mixture can be stored in the refrigerator up to 1 day in advance. Shaped (uncooked) lentil meatballs can also be stored 1 to 2 days ahead. You can also freeze the shaped balls (raw or cooked) for 2 months, then thaw them overnight in the refrigerator. Either cook as directed (if raw) or rewarm in the toaster oven (if cooked). (Note: It's best to store the sauce separately so it doesn't turn the meatballs soggy.)
Store: Keep leftovers in the refrigerator and enjoy for up to 4 days. Enjoy warm, chilled, or at room temperature. 
Nutrition
Calories: 400kcal | Carbohydrates: 43g | Protein: 14g | Fat: 19g | Saturated Fat: 3g | Sodium: 900mg | Fiber: 7g | Sugar: 5g
---