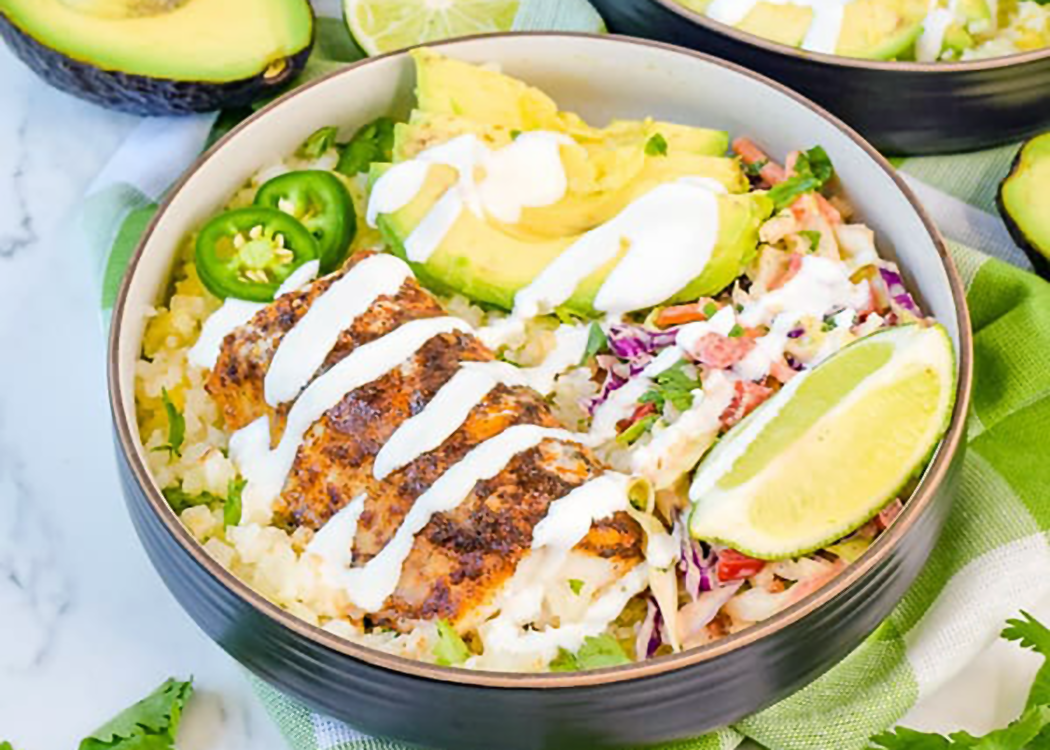 These Fish Taco Bowls are an easy way to give Taco Tuesday a healthy twist that everyone will love. Cauliflower rice, coleslaw, and baked fish make these easy fish tacos a healthy and delicious meal that everyone will enjoy.
Prep Time: 20 minutes Cook Time: 25 minutes Total Time: 45 minutes Servings: 4 Calories: 429 calories
Ingredients
4 frozen cod fillets
2 tablespoons melted unsalted butter
2 tablespoons taco seasoning
1/4 cup sour cream (or Greek yogurt)
1 1/2 teaspoons lime juice
1 teaspoon honey
1 tablespoon milk
pinch of salt
2 cups Pineapple Lime Cauliflower Rice
2 cups Sweet and Spicy Coleslaw
1 Avocado, sliced
1/4 cup chopped Cilantro, for garnish
 Instructions
Preheat oven to 400 degrees. Line a sheet pan with foil for easier cleanup.
Mix together the melted butter and taco seasoning. Brush on the frozen fillets quickly. Bake for 25 minutes.
Whisk together the sour cream, lime juice, honey, milk, and salt.
Fill 4 bowls with 1/2 cup cauliflower rice, 1/2 cup coleslaw, 1 fish fillet, and some avocado slices. Drizzle with the honey lime crema and sprinkle with cilantro.
Notes
 To make this recipe lower in carbs, leave out the pineapple in the cauliflower rice.
Nutrition
Calories: 429 | Total Fat: 18g | Saturated Fat: 7g | Trans Fat: 0g | Unsaturated Fat: 10g | Cholesterol: 123mg | Sodium: 515mg | Carbohydrates: 22g | Fiber: 8g | Sugar: 10g | Protein: 46g
---