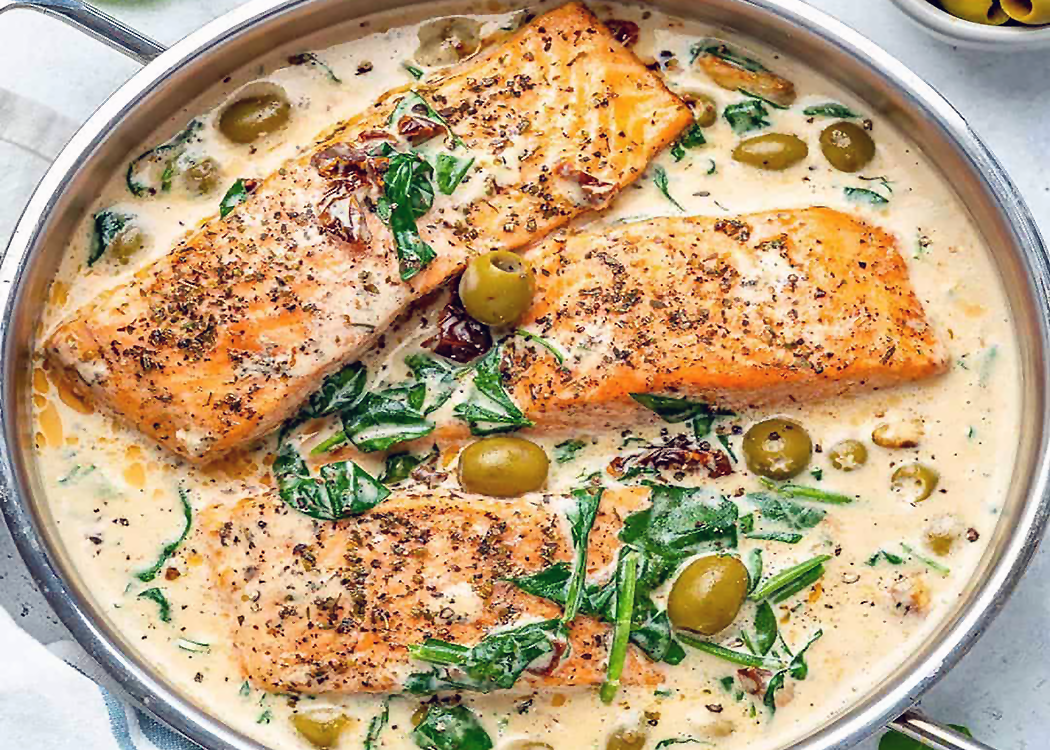 Pan-seared crispy salmon fillets in delicious creamy spinach, olives, and sun-dried sauce using coconut cream.
Prep Time: 5 minutes Cook Time: 20 minutes Total Time: 25 minutes Servings: 4 Calories: 428 calories
Ingredients
Salmon:
1 tbsp. Olive Oil
1 lb. Salmon Fillets 3 or 4 salmon fillets
1 tsp. Italian Seasoning
1/4 tsp. Salt
White cream sauce:
6-8 cloves Garlic peeled
1/4 cup Sun-dried tomatoes chopped
5 oz. Fresh Spinach
1 cup Pitted green Italian Olives
1/4 cup Vegetable broth
3/4 cup Coconut Cream
Instructions
Rinse the fish fillets and pat dry using a kitchen towel. Season the salmon with Italian seasoning, salt, and ground pepper. (Alternatively, you could add the Italian seasoning later in the coconut cream sauce.)
Heat a large non-stick pan. Add oil and heat until shimmering. Place the fish and cook until nicely golden brown about 4-6 minutes on each side.
Remove the fish from the pan and set aside. Using the same pan, add garlic and sauté until fragrant.
Immediately add chopped tomatoes, olives, and spinach. Pour in the broth and stir well.
Reduce the heat to low and cook stirring constantly until the spinach is wilted. Now stir in the coconut cream and cook for 1 minute more.
Carefully return the cooked salmon to the pan, nestling it into the sauce, and cook until heated.
Taste and adjust the seasonings according to your taste. Transfer the salmon to the serving plates.
Pour the sauce on top of the fish and serve warm.
Notes
Don't overcook: Salmon is prone to overcooking, and the line between not done enough and dry and overdone is pretty fine.  The USDA recommends salmon be cooked to an internal temperature of 145 F degrees.
Leaving the skin on? The skin provides a layer of protection against the hot pan, and it's a lot easier to slide a spatula underneath crispy skin than underneath tender flesh. But of course, you can remove it, you'll still get crispy salmon edges.
Any leftover salmon should be refrigerated in an airtight container and consumed within 3 days.
Other Protein: This sauce would go really well with chicken breasts (or thighs) or shrimp!
Nutrition
Calories: 428kcal | Carbohydrates: 12g | Protein: 27g | Fat: 32g | Saturated Fat: 16g | Cholesterol: 62mg | Sodium: 801mg | Potassium: 1183mg | Fiber: 4g | Sugar: 3g | Vitamin A: 3613IU | Vitamin C: 15mg | Calcium: 107mg | Iron: 4mg
---