Creamy Chicken Enchilada Soup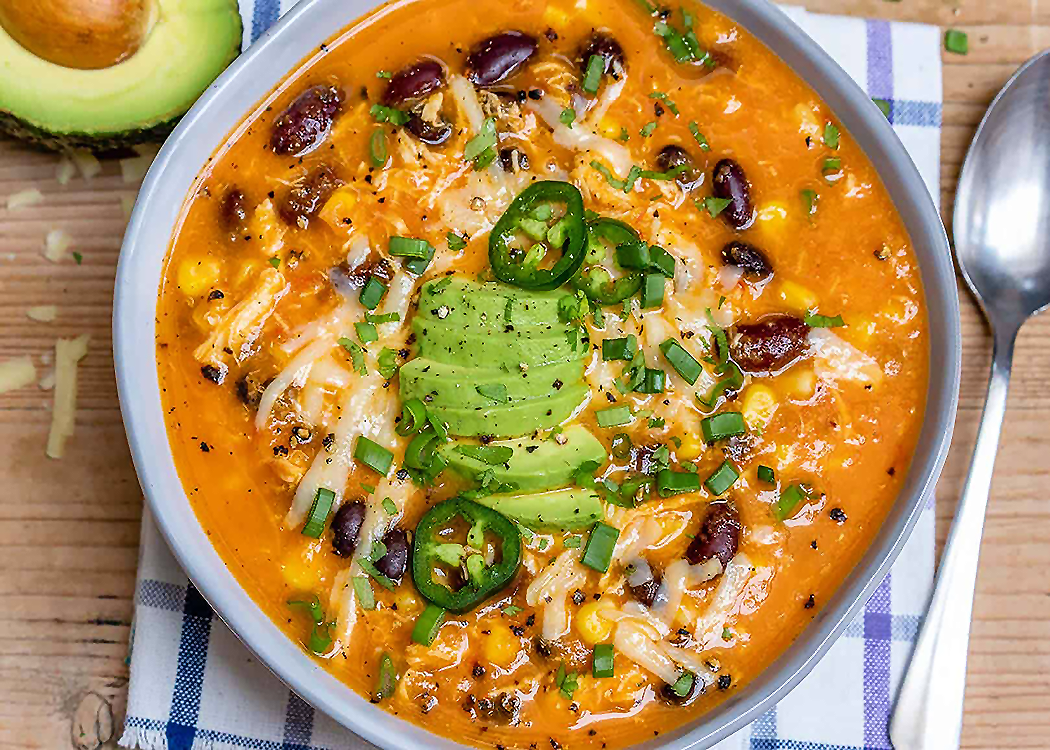 This Chicken Enchilada Soup recipe is so creamy, thick, and easy to make. Loaded with hearty shredded chicken and beans, it is a crowd-pleasing soup that's full of your favorite Mexican flavors and very comforting and delicious.
Prep Time: 10 minutes Cook Time: 25 minutes Total Time: 35 minutes Servings: 6 Calories: 450 calories 
Ingredients
1 Tbsp Butter or Ghee or avocado oil
1 Medium Onion diced
2 Celery Stalks sliced
1 Medium Carrot thinly sliced
1 Large Red Bell Pepper diced
2-3 Garlic Cloves chopped
1½ Tsp Ground Cumin
1 Tbsp Chili Powder
1 Tsp Dried Oregano
15 oz Diced fire-roasted Tomatoes 1 can
¼ Cup Tomato Paste
4 Cups Low Sodium Chicken Broth
5 oz Red Kidney Beans drained and rinsed, 1 can
5 oz Black Beans drained and rinsed, 1 can
1 Cup Fresh or Frozen Sweet Corn
2 Cups Shredded Cooked Chicken
1 Cup Mexican Shredded Cheese Blend for garnishing
Salt and pepper, to your taste
Instructions
Melt butter or ghee (add avocado oil if using) in a large stockpot over medium-high heat.
Add onion, celery, carrots, bell pepper, garlic and cook until softens, about 5-6 minutes.
Stir in seasonings, diced tomatoes, tomato paste, and chicken broth, and bring to a boil. Lower the heat and simmer for about 10-15 minutes, or until veggies are very tender.
Remove from heat and using a hand blender, blend the soup until smooth and creamy. Place the soup back over medium heat and add in beans, corn, and shredded cooked chicken.
Stir to combine and boil for a couple of minutes, just to heat it all up.
Then pour into bowls and top with shredded cheese or your favorite toppings.
Notes
Substitutes:
Fresh, frozen, or canned corn
Oil- avocado, olive oil, or vegetable oil
Try Shredded turkey, ground chicken, or ground turkey
Nutrition
Calories: 450kcal | Carbohydrates: 52g | Protein: 34g | Fat: 13g | Saturated Fat: 6g | Cholesterol: 59mg | Sodium: 444mg | Potassium: 1121mg | Fiber: 15g | Sugar: 6g | Vitamin A: 3542IU | Vitamin C: 44mg | Calcium: 223mg | Iron: 6mg
---