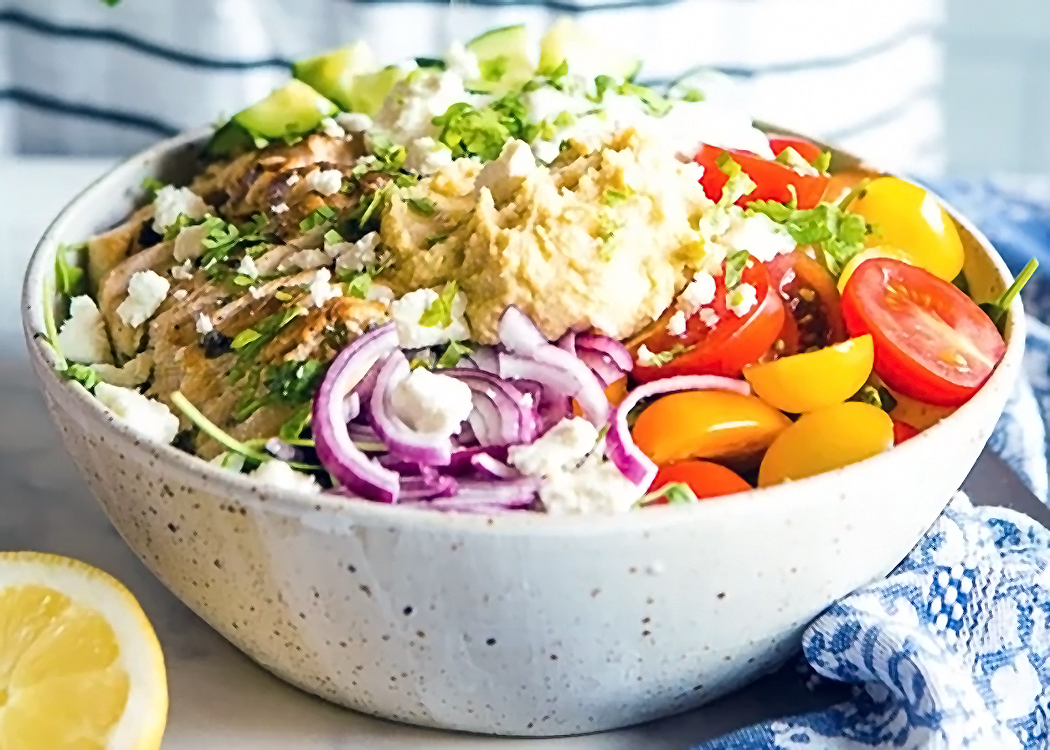 These Low-Carb Chicken Shawarma Bowls make the perfect healthy lunch or dinner that's packed with veggies and protein.
Prep Time: 20 minutes Cook Time:10 minutes Total Time: 30 minutes Servings: 4 Calories: 386 calories
Ingredients
For the Chicken Marinade:
2 tablespoons fresh chopped mint
2 tablespoons fresh chopped parsley
2 cloves garlic finely minced or pressed
juice of one lemon
a pinch or two each, salt and pepper
2 tablespoons olive oil
1/2 cup white wine
2 large chicken breasts cut in half (butterfly-style) to create 4 fillets
For the Mint Garlic Sauce:
1 cup Greek yogurt
2 cloves garlic finely minced
1 tablespoon fresh mint finely chopped
2 tablespoons fresh parsley finely chopped
1 tbsp lemon juice
sea salt to taste
For the bowls:
8 cups of your favorite salad greens (I like a combination of mixed greens, spinach, and arugula)
2 cups cherry tomatoes halved
2 cups chopped cucumbers
1 red onion thinly sliced
8 tablespoons feta cheese crumbled
lemon slices and hummus, for serving (optional)
Instructions
For the Mint Garlic Sauce:
Whisk together all the ingredients for the sauce, cover, and store in the fridge for at least an hour before serving. This sauce can be made one day ahead.
For the Chicken:
Add the mint, parsley, garlic, lemon juice, salt and pepper, olive oil, and white wine to a large Ziploc bag or plastic container. Stir to combine.
Add the chicken fillets (there should be 4, cover (or close the bag), and refrigerate for 2-6 hours.
After marinating, remove the chicken from the marinade and brown in a hot pan with 1-2 teaspoons of olive oil (or some olive oil cooking spray) on both sides until the chicken reaches an internal temperature of 74 degrees Celsius (165 Fahrenheit).
Set the chicken aside on a plate to rest for about 5 minutes and slice thinly.
For the bowls:
If you're using this recipe for meal prep, simply chop all the veggies and store them in separate containers until you're ready to serve.
Add 2 cups of greens to each bowl or meal prep container, along with 1/2 cup of cucumbers, 1/2 cup tomatoes, a handful of sliced red onion, 2 tablespoons of crumbled feta, one sliced chicken breast fillet, and 2-4 tablespoons of the Mint Garlic Sauce.
Serve with lemon slices and hummus, if desired.
Notes
This recipe makes 4 meal prep lunches or dinners or serves 4 people at one meal. To save even more time, double the chicken marinade recipe and cook 4 chicken breasts, freezing half ahead of time for future meal prep lunches or dinners.
Nutrition
Serving: 1serving | Calories: 386kcal | Carbohydrates: 15g | Protein: 37g | Fat: 18g | Saturated Fat: 7g | Cholesterol: 105mg | Sodium: 564mg |
Potassium: 973mg | Fiber: 2g | Sugar: 7g | Vitamin A: 1720IU | Vitamin C: 45mg | Calcium: 276mg | Iron: 2mg
---