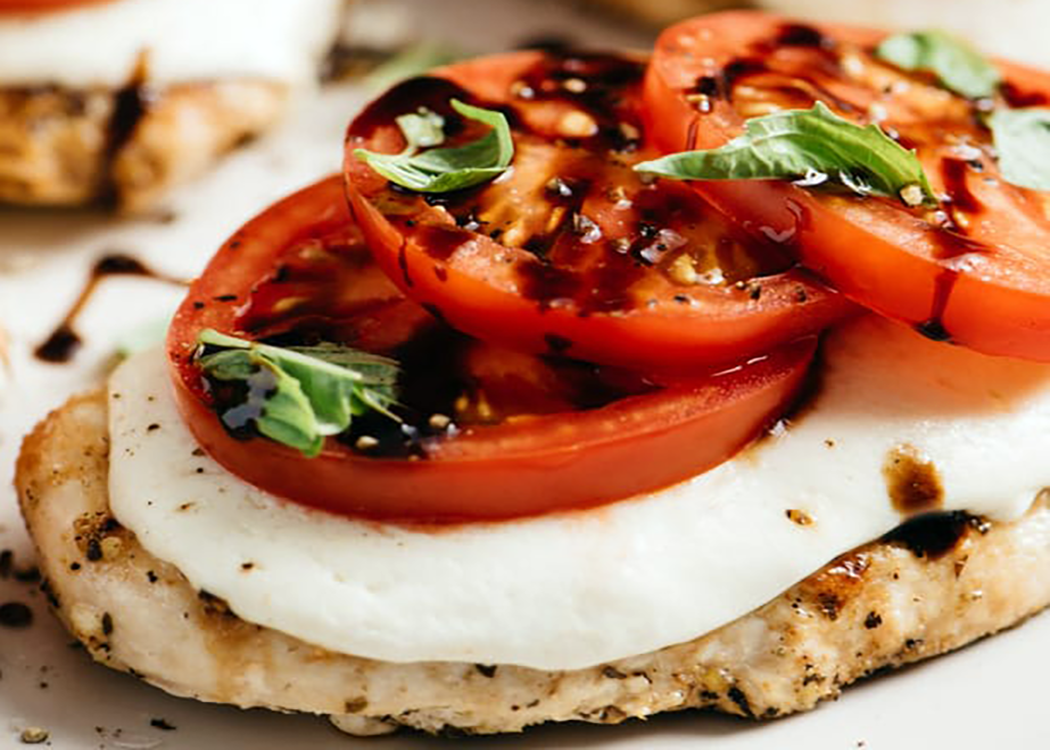 You won't believe how easily and quickly this simple Caprese Chicken comes together. In less than 30 minutes, you can be slicing into this little piece of Italian heaven.
Prep Time: 10 minutes Cook Time:15 minutes Total Time: 25 minutes Servings: 4 Calories: 391 calories 
Equipment
Rolling Pin
Instant Read Thermometer
Grill pan
Parchment Paper
Ingredients
4 5-7 oz chicken breasts pounded to even thickness
2 tsp Italian seasoning
2 tsp sea or kosher salt
1 tsp garlic powder
1 tsp onion powder
1 tsp cracked black pepper
1 tbsp olive oil
8 oz fresh mozzarella sliced into 8 even pieces
2 vine-ripened tomatoes sliced into ½" slices
fresh basil to taste
aged balsamic or balsamic glaze to taste
Instructions
Prepare the chicken. Place one chicken breast onto a sheet of parchment paper. Fold the paper over the chicken. Using a rolling pin, pound the chicken breast to an even thickness of a little less than 1". Set aside and repeat with the remaining chicken breasts.

Combine the Italian seasoning, sea salt, garlic powder, onion powder, and pepper in a small bowl. Stir to combine. 

Brush the chicken with olive oil, then sprinkle with the seasoning blend. Flip the chicken oven, then oil and season the other side.

Heat a grill or grill pan over high heat. Place the chicken breasts onto the grill and cook for 5-6 minutes per side, or until the internal temperature reads 155°F using an instant-read thermometer (the chicken will come to the proper temperature in the next step). 

Top each chicken breast with 2 slices of fresh mozzarella. Continue grilling for 3 minutes, or until the cheese is melted and the internal temperature reads 165°F. 

Place the chicken breasts onto a platter or individual plates. Top each chicken breast with 2-3 slices of fresh tomatoes, then sprinkle with fresh basil and additional salt and pepper to taste. Just before serving, drizzle with aged balsamic vinegar or balsamic reduction. Serve immediately.
Notes
Do not cook the the chicken to proper temperature in Step 4 or it will be overcooked and on the dry side by the time the cheese is melted.
You may want to place a cover over the grill pan (or simply close your grill) to help the cheese melt. I use an inverted 9" x 12" cake pan as a "cover" for my grill pan. Make sure you use an oven mitt to remove it! 
Always use an instant-read thermometer to check for proper meat temperature, especially for this recipe where you cannot use the pressure test due to the cheese.
To double this recipe (for a crowd) using a grill pan:  grill the chicken breasts in batches to 155°F, then transfer to a baking sheet and cover with an inverted rectangular cake pan to keep the chicken warm. Once all the chicken breasts are cooked, top them with fresh mozzarella, then transfer the baking sheet to a heated 500°F oven. Bake for 2-4 minutes, or until the cheese is melted and the chicken reaches 165°F. 
Nutrition
Calories: 391kcal | Carbohydrates: 8g | Protein: 49g | Fat: 18g | Saturated Fat: 7g | Polyunsaturated Fat: 0g | Monounsaturated Fat: 2g | Trans Fat: 0g | Cholesterol: 160mg | Sodium: 1169mg | Potassium: 263mg | Fiber: 2g | Sugar: 3g | Vitamin A: 1300% | Vitamin C: 19% | Calcium: 350% | Iron: 0.7%
---