Broccoli Cauliflower Rice Chicken Casserole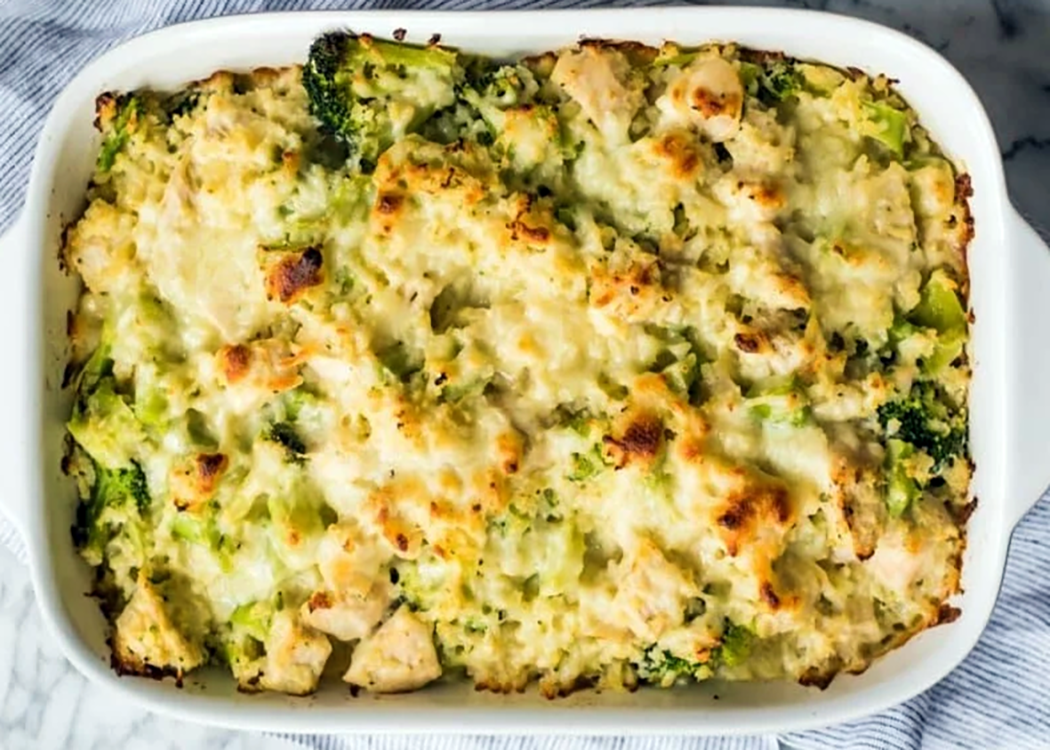 This low-carb and cheesy Broccoli Cauliflower Rice Chicken Casserole recipe is perfect for dinner and makes great leftovers. It's also gluten-free!
Prep Time: 5 minutes Cook Time: 1hr Total Time: 1hr 5 minutes Servings: 8 Calories: 375 calories
Ingredients
2 pounds skinless boneless chicken breasts
1 tablespoon olive oil
2 10-ounce bags of frozen cauliflower rice (or 1 head of cauliflower, riced and cooked)
1 16-ounce bag frozen broccoli cuts
2 large eggs, whisked
3 cups, shredded mozzarella cheese
2 teaspoons kosher salt
2 teaspoons garlic powder
2 teaspoons onion powder
2 tablespoons unsalted butter melted
1 cup shredded Italian blend cheese
Instructions
Preheat oven to 400°F. Spray a large 3-quart baking dish with non-stick cooking spray or olive oil. Set aside.
Slice chicken breasts in half horizontally to make them thinner, lightly coat them in olive oil, and place on a baking sheet.
Liberally season with salt and pepper and bake for 20 minutes.
While the chicken is baking, heat the bags of frozen cauliflower rice and broccoli according to package instructions. Discard any excess water or moisture.
Remove chicken from oven and let cool for 5 minutes. Carefully chop baked chicken into bite-sized pieces.
In a large bowl, add cooked cauliflower rice, broccoli, chicken, eggs, mozzarella cheese, salt, garlic powder, onion powder and butter. Toss together until fully combined.
Transfer the casserole mixture to the prepared baking dish and top with the remaining Italian blend cheese.
Bake for 50 minutes, until the cheese on top has fully melted and started to brown slightly. Let cool for 10 minutes before serving.
Nutrition
Serving: 1/8th of casserole | Calories: 375kcal | Carbohydrates: 13g | Protein: 38g | Fat: 19g | Saturated Fat: 9g | Polyunsaturated Fat: 1g | Monounsaturated Fat: 6g | Cholesterol: 142mg | Potassium: 274mg | Fiber: 3g | Sugar: 5g | Vitamin A: 750IU | Vitamin C: 85.8mg | Calcium: 260mg | Iron: 1.4mg
---